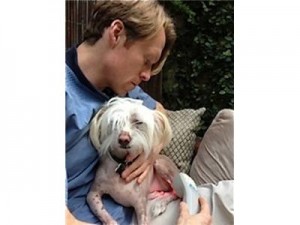 A professional associate and friend, Jodi Ziskin, has a great new show on Blog Talk Radio called Holistic Pet HQ with Jodi Z. She's having me as guest on her show to promote the holistic approach to pet care.
Now
THIS
is an episode of
Healthy Pet HQ with Jodi Z
pet lovers won't want to miss! Joining host
Jodi Ziskin
will be Dr. Patrick Mahaney, VMD, CVA, CVJ, veterinarian, certified veterinary acupuncturist and all around awesome guy. He will share the advantages and effectiveness of acupuncture for pets. Dr. Mahaney's unique approach integrating eastern and western medicine has evolved into a concierge house call practice,
California Pet Acupuncture and Wellness (CPAW), Inc
. Additionally, Dr. Mahaney offers holistic treatment for canine and feline cancer patients at the
Veterinary Cancer Group
(Culver City, CA). He is also the west coast director of
JetSetVets
, the first private jet service capable of providing in-flight medical treatment for pets. Dr. Mahaney shares his perspective on veterinary medicine and pet health in PetMD's
The Daily Vet
, Pet360's Victor Stilwell's
Positively.com
, Perez Hilton's
TeddyHilton.com
and more. In addition to being called in by Jackson Galaxy to provide veterinary services on Animal Planet's My Cat From Hell. Dr. Mahaney regularly contributes to both radio and TV projects. He is in the process of developing a TV show about veterinary volunteerism and public health education through partnerships with rescue organizations on a worldwide basis.
Thank you for reading this article. Your questions and comments are completely welcome (I'll respond). Please feel free to communicate with me through Twitter (
@PatrickMahaney
) and follow my adventures in veterinary medicine by liking
Patrick Mahaney: Veterinarian Acupuncture Pain Management for Your Pets
on Facebook. Copyright of this article (2013) is owned by Dr Patrick Mahaney, Veterinarian and Certified Veterinary Acupuncturist. Republishing any portion of this article must first be authorized by Dr Patrick Mahaney. Requests for republishing must be approved by Dr Patrick Mahaney and received in written format.