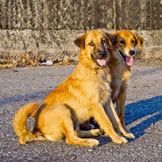 This article originally appeared on Dr. Mahaney's The Daily Vet column on PetMD as
Reducing Pet Overpopulation and Stopping the Dog Meat Trade in Thailand
. This is the third of a three part series of Daily Vet articles I've written about my recent trip to the Far East. In case you missed them, here are my first two articles:
Diagnosing and Treating Canine Dry Eye in a Third World Country
Far East Veterinary Travels: Observing Canine Life in Hong Kong and Touring the SPCA.
The final leg of my trip brought me to Phuket, Thailand, where I visited four years prior. Like my stop in Hong Kong, this trip was not a vacation, but an opportunity to build relationships with international rescue organizations.
Before leaving the U.S., I contacted Soi Dog Foundation and scheduled a visit to their facility with the intention of partnering with them for my upcoming veterinary television show (about to be shopped to the networks by our production company's agent). Having read much about Soi Dog's amazing work, I was eager to see their facility and get a first-hand perspective on the life of Thai rescue dogs and cats.
First, you may be wondering about the name: Soi Dog. What does it mean? For non-Thai speakers, what may come to mind is coating a dog in soy, such as soy sauce. But no; soi means street, so Soi Dog is meant to mean "dog of the street." Of course, we westerners would never eat dog, but there is an unfortunate demand for canine meat by humans in Vietnam (Thailand's neighbor to the East), which Soi Dog is working to end. The dog meat trade is a major problem in Thailand, but Soi Dog is tirelessly bringing those involved in the trade to justice and shutting down their smuggling operations. I met with Gregg Tully, a very pleasant American who now lives in Thailand and works at Soi Dog. He was very generous to give me a tour and participate in an interview, so I learned the following from our time spent together:
Soi Dog Foundation was started in 2003 by Margot Homburg Park and John and Gill Dalley. The Dalleys had come to Phuket to retire. The goal of the organization was to help control the populations of the seemingly growing number of dogs on the streets of Phuket.
The most common services provided by Soi Dog Foundation are spay and neuter procedures. As of Febuary 2013, 48,295 dogs and cats have been sterilized between Bangkok, Phuket and in other Thai. Tully said that "the stray dog problem (in Phuket) is solvable." It sounds like Soi Dog is succeeding in solving the issue.
Soi Dog Foundation is the only foundation of its kind registered with the Thai government and is the fastest growing animal organization in Southeast Asia. It's an international organization that registers as a charity in Australia, Holland, France, Thailand, the United Kingdom, and the United States.
There are over 400 dogs and cats living at the Soi Dog Foundation shelter. Long term residents (both dogs and cats) are microchipped and vaccinated for rabies, DHPP (dogs), and FVRCP (cats). As a result of their efforts, Phuket is the only Thai province having been declared free from rabies.
Tick borne diseases (ehrhlichia, analpamsa, etc.) are the most common infectious diseases contracted by dogs living on the streets. Many are treated with antimicrobials for 30 days or longer once they are at the shelter. Some dogs carry the parasites and show no clinical signs of illness.
There is a need for medical supply donations to help promote the health of the Soi Dog Foundation animals, including topical antiparasitics (Frontline, Advantage, etc.). Guidelines are listed on the Donations of Veterinary Supply webpage.
To combat the illegal dog meat trade between Thailand and Vietnam, Soi Dog Foundation started the "Trade of Shame" campaign in August, 2011. In less than two years, the Trade of Shame campaign has led to the arrest of over 30 smugglers, whereas only two arrests had been made in the previous 15 years. So far, greater than 7,000 dogs have been rescued from the dog meat trade.
Eating dog is not a tradition entrenched in Thai culture. It's a trade catering to restaurants and not commonly practiced among Thai people. Dogs are caught off the street or people's pets are stolen, especially in the regions north of Bangkok. Graphic photos that illustrate the inhumane practices involved in the dog meat trade and the means that financial donations can be made are found on Soi Dog Foundation's Trade of Shame webpage.
In June, 2013, Soi Dog Foundation will be meeting with government officials in Laos, Thailand, and Vietnam to educate those in power on the serious public health concerns involving the dog meat trade; that is, rabies. This virus enters through a few infected dogs brought from various regions of Thailand and can quickly spread and be fatal for other animals and humans.
International adoption is a unique service Soi Dog Foundation offers to interested pet lovers world-wide. The Flight Volunteer program matches people traveling from Thailand back to their own country with a pooch needing transport to their forever adoptive home.
I look forward to returning to Thailand and partnering in a capacity that can make a difference in the lives of the rescued dogs and cats: by offering
my veterinary services
(medicine, surgery, needle and laser acupuncture, etc.) and promoting awareness of their efforts at combating the dog meat trade through public education. Thank you for reading this article. Your questions and comments are completely welcome (I'll respond). Please feel free to communicate with me through Twitter (
@PatrickMahaney
) and follow my adventures in veterinary medicine by liking
Patrick Mahaney: Veterinarian Acupuncture Pain Management for Your Pets
on Facebook. Copyright of this article (2013) is owned by Dr Patrick Mahaney, Veterinarian and Certified Veterinary Acupuncturist. Republishing any portion of this article must first be authorized by Dr Patrick Mahaney. Requests for republishing must be approved by Dr Patrick Mahaney and received in written format.