This article originally appeared on Dr. Mahaney's The Daily Vet column on PetMD as How Patrick the Pit Bull Started an Animal Rights Movement .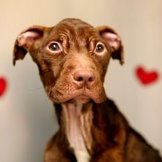 In 2012, I had the opportunity to be involved in a one of the most popular animal welfare stories of that particular year. Unfortunately, the popularity of the story stemmed from a horrific act of animal abuse. You may recall the unfortunate situation of Patrick the Pit Bull, who was neglected, starved, and ultimately disposed of down a garbage chute and left to die by his owner, Kisha Curtis, in Newark, New Jersey.
Through the good work of those involved in his medical care, Patrick made a full recovery. My friend and professional associate, Susan Davis, participated in Patrick's care as she performed his physical rehabilitation. I featured Davis's perspective on providing care to Patrick in the following two articles for petMD:How Physical Rehabilitation Aided Patrick the Pit Bull's Remarkable Recovery From Abuse and Neglect and The Will to Survive - Patrick's Story, Part 2.
Considering my indirect involvement in Patrick's cause, I was quite surprised and pleased to run into the driving force behind a much-needed animal welfare cause, Patrick's Movement, at a recent event in Los Angeles that I covered for my Pet-Lebrity News column on pet360.com (see: Betty White Headlines the Dogs for the Deaf Hollywoof Event).
Lori Wheeler is that driving force and continues to strive for the betterment of dogs, cats, and other species through Patrick's Movement.  At the Dogs for The Deaf Hollywoof event Wheeler co-emceed the live auction and even prompted actor David Faustino to purchase a deluxe vacation to Mexico … to the ultimate benefit of critters in need, of course.
Wheeler generously made time to share the origins of her involvement in Patrick's Movement and her perspective about the ongoing issues surrounding the fight for the rights of our creature companions.
Animals have always been my backbone. This happened at an early age probably around 5 or so. My mother was ill and she died when I was 13 and my father was abusive in just about anyway you can imagine. My one happy part of my life other than my best friend (we are still best friends) was my dog Ringo. Sadly my dad would not allow Ringo in under any weather conditions. He did have a dog house but my heart broke on super hot or cold days. This is something I am totally against and fight tooth and nail to make sure animals are not chained or left outside all the time.
So how does Patrick fit in to this? I have always helped animals, and people have always contacted me for help in abuse cases (SEVERE abuse cases since most people understand I fight for them). I not only rescue and save dogs, but all kinds of animals, including hamsters.
So back to Patrick. Right before it (the story) hit the newspaper I had people calling me about the Patrick case. I used to live in Newark with my ex-husband for six years. I, of course, was outraged and wanted to make sure that whoever did this was punished. But I first wanted to make sure Patrick was alive and well. This is how I met Susan Davis (via Twitter @AnimalPTSue) and she was nice enough to tell me when she was going to give him his therapy. I should back up a bit first...
I have very lofty goals in life. I always have. I was so outraged I figured I would take to Twitter and get 1 million people against animal abuse. Well, almost three years later @PatricksMovement has 3400 followers. So, my goal has not yet been met. With that said, I have decided on quality, not quantity, in making a difference. Patrick was my foundation to make a difference globally in any area of abuse that I could think of.
For the first court trial of Keisha Curtis, I drove to New Jersey and spoke outside the courtroom. Watching her walk out of that place for one of the trial's many extensions made me so ill (Curtis pleaded "Not Guilty"). I knew we needed harsher laws against people like her. I wanted to do something on the federal level (still working on that) but was told it had to be on a state level. Since then, I've been recruiting people from various states to lead their state in changing the animal abuse laws.
@Patricksmovment was one of the main sources for trial information and news on Patrick, the dog that so many fell in love with. Patrick was more than that to me. He gave me the courage to start something that I knew since I was five. Animals are not for amusement or abuse. I was lucky enough to speak at the University of Maryland a few years ago on animal abuse and how we can stop the unwanted pet population. Patrick has given me the strength and courage to thrive in the animal welfare world just as he has thrived and healed with the Scavellis (Patrick's foster family).
I was born with the gift of being a medium and that is what I do on a full-time basis. I work in the paranormal field and travel across the country. While in various states, I take the opportunity to continue my animal welfare work in that state.
Patrick started me on my long overdue animal welfare journey. I now have specialized in dogfighting rings (and how to find them), what to do  when you see abuse, chained animals, knowing exactly what abuse is (and the many forms of it), how to find the right dog for the family, and many other areas. I have helped horses, elephants, tigers, and, again, any other animal that you can think of.
Patrick gave me courage through his journey. As he healed and became stronger each day so did I. I credit Patrick and his journey for putting me on the path I should have been on 25 years ago. Thanks to Patrick, I have helped over a thousand animals over the past three years. Thanks to him I will continue to help thousands more.
For the benefit of animals in need and mankind in general, it's great that people like Wheeler, Davis, and others dedicate their time, energy, celebrity, and other resources to welfare causes.
Definitely follow @patricksmovment on Twitter and Patrick's Movement Maryland on Facebook.
Patrick, recovered
Thank you for reading this article.  Your questions and comments are completely welcome (I'll respond).
Please feel free to communicate with me through Twitter (@PatrickMahaney) and follow my adventures in veterinary medicine by liking Patrick Mahaney: Veterinarian Acupuncture Pain Management for Your Pets on Facebook.
Copyright of this article (2013) is owned by Dr Patrick Mahaney, Veterinarian and Certified Veterinary Acupuncturist. Republishing any portion of this article must first be authorized by Dr Patrick Mahaney. Requests for republishing must be approved by Dr Patrick Mahaney and received in written format.
- See more at: http://www.patrickmahaney.com/#sthash.7QW1HpIJ.dpuf