This article originally appeared on Dr. Mahaney's The Daily Vet column on petMD.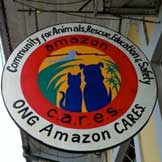 Having always wanted to partake in veterinary philanthropic work outside of the safe and cushy borders of the United States, it was fortuitous that I met Amazon CARES president Molly Mednikow at the 2010 BlogPaws Convention. Having learned of the volunteer experience from the perspective of another Los Angeles veterinarian, I enthusiastically registered for the April 2011 trip and started my preparatory process (immunization for me, fundraising, packing, etc.).
There are so many amazing life enhancements that Amazon CARES facilitates for Peruvian dogs, cats, and people who otherwise have little to no access to veterinary or human medical treatment. As my work in Los Angeles and abroad is focused on bettering the lives of animals and the people who provide their care, I feel synergy with Amazon CARES's core values. "CARES" doesn't just sound compassionate, it's an acronym for:
COMMUNITY

CARES is rooted in the Peruvian Amazon community, with a team of Peruvian veterinarians, shelter staff and volunteers.By working with local municipalities and using existing resources, we address and solve evolving issues more efficiently.

ANIMAL

Animal Birth Control (ABC) reduces the size of unwanted, roaming animal populations and the attendant suffering due to disease, starvation, injury and want that accompanies these unwanted animals.

RESCUE

Many animals captured during our ABC campaigns are not healthy enough to be released. These animals are treated in our modern veterinary clinic and then transported to our no-kill shelter in nearby Cabo Lopez. Abandoned animals and countless litters of abandoned kittens and puppies are also welcome at our shelter.

EDUCATION

Humane Education is a very strong component of our work. In the jungle towns and in local schools, Peruvian Director, Bruno Antoine works tirelessly to teach children of all ages about the importance of animal and human relationships, responsible pet ownership, and the importance of respecting wildlife in their natural environment. CARES appears on TV weekly to discuss sensitivity towards animals.

SAFETY

As a component of our education efforts we teach about dog-bite prevention and the importance of animal health as it pertains to public and environmental health. We encounter many dogs with diseases that are transmissible to the human population. We conduct campaigns against domestic violence by demonstrating the proven link between animal abuse and said violence.

— From Amazon Cares
Unfortunately, in early 2012 spring rains caused the Itaya River to overflow its banks and placed the Amazon CARES no-kill animal refuge in Cabo Lopez in harm's way. According to Mednikow, "The inundation of rain has caused a fast deterioration of the shelter. There is no longer a dividing wall between healthy animals and those in treatment. Amazon CARES's workers are endangered, as they must wade through water to get food to the dogs, avoiding snakes and other dangers. Sadly, the dogs have no play area anymore."
Photos of the flood can be found on the Amazon CARES Facebook page. A canoe-guided YouTube video tour of the catastrophe is voiced by Cabo Lopez employee Gustavo, who details how the flood has rendered the outdoor kennels unusable and caused crowding into the facility's interior space.
Although the waters have subsided, the shelter is still in the process of rebuilding. Mednikow notes "[we have] appealed to Peruvian authorities for help with this disastrous situation, and we can only hope they will listen to our plea. Our number one priority at this time is getting animals adopted and re-located. If you can help us rebuild our shelter, please donate today."
During my time in Peru, the volunteer lodge at Cabo Lopez was my temporary home. While working and staying at the no-kill refuge, I had the opportunity to share my perspective of holistic veterinary practice with the Amazon Cares Peruvian veterinarians and volunteers. One of the products I introduced to them was the i Love Dogs vitamins and supplements (which utilize medicinal Chinese herbs and other nutraceutical ingredients to promote improved canine immune system, joint function, and overall health). As so many of the dogs in third world countries suffer from chronic parasitic and bacterial infections, and continuous exposure to biting insects, they are in considerable need of any available help to have a better quality of life.
My trip to Peru was so inspiring that I wrote a series of articles detailing the various adventures and experiences I had managing canine and feline health issues that I had never previously faced (performing surgeries in open-air venues, witnessing the full-body defoliating effects of mange, etc.). Written and photo based-recollections can be found in the Vets Abroad category onPatrickMahaney.com, and my Daily Vet blog has featured two additional articles: Spaying Pregnant Dogs in Third World Countries andCommemorating International Homeless Animal Day: Capturing, Treating, and Releasing Peruvian Street Dogs.
Additionally, my YouTube video, The Adventures of Dr. Patrick Mahaney: International Veterinary Volunteer, brings you up close and personal with our professional responsibilities and cultural explorations (DISCLAIMER: this video features graphic elements, such as bot fly larvae extraction from a dog's eyelid ... from which he readily recovered).
It has been a privilege to work on an ongoing basis with an international organization like Amazon CARES, as we collectively strive to promote worldwide animal health and welfare. Please lend your support to Amazon CARES by making a financial donation and spreading the news of their good work to your friends, family, and coworkers through social media. The lives of countless animals and people will be bettered as a result of your efforts.
Dr. Patrick Mahaney
Image: Image of Amazon CARES sign outside of the refuge, taken by Dr. Mahaney
Thank you for reading this article.  Your questions and comments are completely welcome (I'll respond).
Please feel free to communicate with me through Twitter (@PatrickMahaney) and follow my adventures in veterinary medicine by liking Patrick Mahaney: Veterinarian Acupuncture Pain Management for Your Pets on Facebook.
Copyright of this article (2012) is owned by Dr Patrick Mahaney, Veterinarian and Certified Veterinary Acupuncturist. Republishing any portion of this article must first be authorized by Dr Patrick Mahaney. Requests for republishing must be approved by Dr Patrick Mahaney and received in written format.