Part of the ongoing prevention of recurrence of my
IMHA
includes having me stay optimally hydrated. To prevent me from accumulating excessive heat associated with the consumption of dry dog foods (considered "hot" from a Chinese medicine perspective according to my dad), I eat a moist, home-prepared, "cooling" vegetable and meat based diet.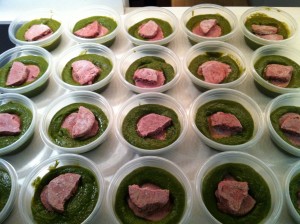 Additionally, I love to engage in frequent garden hose play and "shower time" consumption water dripping from the bottom edge of the shower door. Therefore, I typically urinate a larger volume with a greater frequency than most dogs. As we live in a town house in West Hollywood, one of my dads has to either take me for a walk or let me out in our small, urban paradise of a yard through a glass door. I am usually able to hold my pee, but I occasionally end up going inside the house. When this happens, I do my best to get close to the exit door. Unfortunately for my dads, the site of my urinary accidents has been a thick, dark brown carpet in the middle of our living room. Despite my dads' DIY (do it yourself) attempts at cleaning with various products, my urination locations have taken on a mild unpleasant odor. As a result, my dad was very pscyhed to meet Beth Jester, a representative of Bissell Homecare, at
Blog Paws West
(Denver, CO). He was introduced to Bissell's extensive line of cleaning products and had specific interest in those that remove pet odors and stains.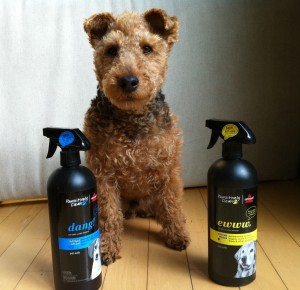 The use of the Bissel's
Pawsitively Clean Ewww
product is ideal for our first product review. All it took was two applications of the product (employing the blotting technique as directed on the bottle) to remove the offending odor without adversely affecting our carpet's color. So far, I have not left any other visible stains on the carpets in our home, but we now have the security of this awesome Bissel product just in case! 
Thank you, Cardiff (and my dads!)