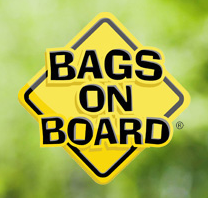 For many years,
Bags on Board
pet waste bags and dispensers have been the system of choice for sanitarily managing my dog's bowel movements (and those left behind by less than responsible dog owners). Although there are
variety of designer products
available from Bags on Board, the Original Dispenser's simple cylindrical construction and pleasantly scented bags have always appealed to Cardiff and I. Actually, the product has been so sturdy and reliable that there has been no need for replacement since I purchased it 4 years ago. Well, I recently filmed this pet care video for
TeddyHilton.com
(
Perez Hilton
's animal-centric site), which included a visual of the Bags on Board Original Dispenser. See:
How to Scoop Poop in Style
[youtube]
http://www.youtube.com/watch?v=n47K_3NRuRQ[/youtube
] Since the video's posting, Bags on Board's public relations company,
The Impetus Agency
, contacted me with some great news. As a result of the video, Bags on Board experienced an exponential increase in participant requests for their "Naughty Neighbor" campaign. I now have the opportunity to share my perspective on another very handy Bags On Board offering for dog owners on the go. Introducing the Leash Handle Dispenser.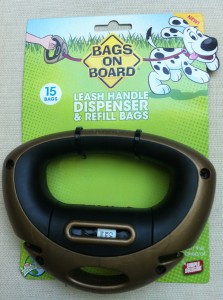 What I really like about this product is the sturdy, rubber lined handle, which also serves as a combination bag dispenser and holder for bags containing waste. As Cardiff and I love to walk on Southern California's beaches, there are many times when a trash can is not immediately available for proper waste disposal. The Leash Handle Dispenser is a great means of managing the bag partially filled with Cardiff's poop until a proper receptacle materializes (fortunately, Cardiff's BMs are quite compact ). This option is so much better than stuffing the bag in my pocket and leaves my hands free to maintain control over my enthusiastic canine companion. For those of you who are squeamish about seeing your dog's bowel movements (but for the time when you have to physically perform the pick up), BOB's black colored bags readily hide the visually offensive contents.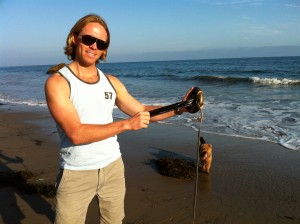 As both Bags on Board and I are fiercely devoted to the cause of proper pet waste management, I look forward to consulting on product development and participating in future promotional campaigns. Cardiff and I have taken the initiative, as you will see on this You Tube video:
Dr Patrick Mahaney and Cardiff Endorse Bags On Board Leash Handle Dispenser
[youtube]
http://www.youtube.com/watch?v=uuxEfVmoP3E[/youtube
] Make sure to check out my "
Preferred Products
" page to check out Cardiff and my favorites. Thank you for reading my article. To receive my next veterinary posting via email, please press the "Don't Miss a Blog Post" button on the right upper corner of this page or follow
this link
. Feel free to leave your comments or communicate with me through email (
patrick@patrickmahaney.com
) or Twitter (
@PatrickMahaney
). Follow my adventures in veterinary medicine by friending
Patrick Mahaney: Veterinarian Acupuncture Pain Management for Your Pets
on Facebook. Copyright of this article (2011) is owned by
Dr. Patrick Mahaney
, Veterinarian and Certified Veterinary Acupuncturist. Republishing any portion of this article must first be authorized by Dr. Patrick Mahaney. Requests for republishing must be approved by Dr. Patrick Mahaney and received in written format.