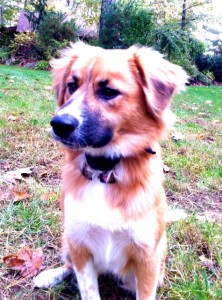 I recently had the opportunity to review a product from
PetSafe
that strives to help to promote the safety and well-being of our canine companions:
Stay + Play Wireless Fence
. As Cardiff and I live in a West Hollywood condominium lacking a yard, I decided to share this product-for-review with someone who it may actually use it 'in real life'. So, I shipped the Stay + Play to Massachusetts to my
Aunt Jeri
. Around Jeri's home is open space in which her youthful and in-training dog, Finne, can run. Finne is still learning the boundaries of his yard and would be eager to escape if he not properly taught to recall or stay within defined safe area. So, I thought the stay and play at wireless fence would be a good fit for Aunt Jeri and Finne. Here is Jeri's review:
Packaging and Instructions
The Stay + Play's package is easy to open. Its components are clearly identified and the instructions are simple to follow.
Set-Up
I found setting up the the flags to be difficult in some parts of our yard. The flags were challenging to insert in firm soil and had a tendency to bend. It would be beneficial to have some flags that are supported by a "stand" for the areas where the flags won't easily penetrate the soil. A wooded area served as our trial field, so the flags weren't easily seen. Having a larger flag or a brightly colored ribbon to tie to trees or bushes could improve the flags' visibility. PetSafe does not recommend using the driveway as part of the defined area as cars may interfere with the system. Because of the layout of our yard/driveway, we had no alternative but to use the driveway as part of Finne's flagged territory. Fortunately, neither the driveway nor the cars caused any interference with the system.
Response to Training
Finne responded well to training with the Stay + Play. She responded to the collar and correction done in a positive manner. Finne better obeys our commands when we are outside, which I feel results from her training with the Stay + Play and becoming more experienced/mature. She sometimes gets carried away in her excitement and has gone close enough to the boundaries to provoke the collar to beep. While training Finne, I found the volume of the beep produced by the collar was low and hard for me to hear. Being able to increase the tone's volume would be helpful. Additionally, having a smaller reference card detailing the Stay + Play's settings would make for easy reference on the go. To resolve this issue, I made copies of the instructions and put them on the fridge for easy reference and so I would not have to bring the instruction book with us during each training session.
Final Thoughts
All in all, the
Stay + Play Wireless Fence
has been a positive contributing factor in keeping Finne contained and safe within a desired area. Thank you Jeri for contributing your real life perspective to Pet Safe's line of products. Thank you for reading this article. Your questions and comments are completely welcome (I'll respond). Please feel free to communicate with me through Twitter (
@PatrickMahaney
) and follow my adventures in veterinary medicine by liking
Patrick Mahaney: Veterinarian Acupuncture Pain Management for Your Pets
on Facebook. Copyright of this article (2012) is owned by Dr Patrick Mahaney, Veterinarian and Certified Veterinary Acupuncturist. Republishing any portion of this article must first be authorized by Dr Patrick Mahaney. Requests for republishing must be approved by Dr Patrick Mahaney and received in written format.