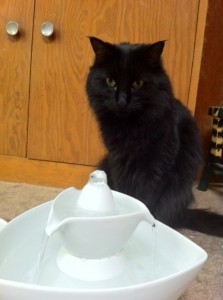 I enjoy the opportunity to review products that I feel are helpful to my veterinary patients. As I don't have a feline companion of my own, I invited a friend having cats, Susan Whiteaker, to demo the
PetSafe Drinkwell Lotus Fountain
. The PetSafe Drinkwell Lotus Pet Water Fountain is made for critters up to 25 pounds, especially those that are intrigued by moving water. It has two ceramic dishes at different heights and a center cone that serves as the fountain. A small pump is nestled beneath the center cone to keep the water moving. The pump is circled by a foam filter which catches debris and pet hair as the water circulates to keep everything fresh. It holds 50 ounces of water that continuously flows upward and then falls into the top ceramic dish. The water then free-flows out three lips into the lower bowl. The fountain is mostly ceramic which is a definite plus for kitties that have acne problems from plastic bowls. The cone that carries the water from the bowl to the top of the cone is plastic (as well as the tubing from the pump), but it isn't a problem because areas that a cat's chin might touch are ceramic. It is about the size of a very large serving bowl, 9"L x 9"W x 7"H and weighs 4.8 pounds. Prices online varied from $55.01 to $79.99 for the initial purchase. Prices also varied for additional items such as replacement filters ($4 to $9), cleaning kits ($8 to $10), replacement pumps ($16.50) and replacement tubing ($5). Some websites charged shipping while others did not. Many sites carry the fountain, but it took a bit of Googling to find the accessories other than the replacement filters. For kitties that are "water-babies" like my Lazarus O'neill ("Laz" for short) this fountain initially provided a great deal of entertainment from just watching the water. For the other kitties, I hoped this fountain would encourage drinking more water which is especially important for many kitties for health reasons.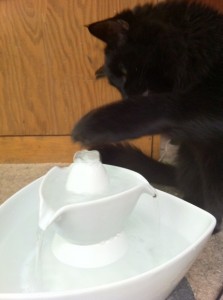 In my opinion, The electric cord is too short. It was a bit of a challenge figuring out where to situate the fountain where it was close enough to an outlet. No doubt the length is for safety reasons, though, so there isn't a cord snaking across a room or running the length of a wall for kitties to chew or humans to trip. Although nothing is mentioned in the owner's manual, I do not believe that an extension cord would be a safe idea. It is very attractive and a nice addition to the "cat buffet" area in my library. The pump is wonderfully silent; all you hear is the trickling water. I must admit, however, that more than once I was taken aback at the sound of running water that I actually got up to investigate what I was afraid was a water leak in the bathroom. Ultimately I was disappointed because none of my cats would drink from it, regardless of whether it was running or it was unplugged. Even Laz, the Water Baby, lost interest after the first day. While the fountain was running, they avoided their regular water dishes which sat next to the fountain. The fountain ran for about a week before I gave up. It never got to the point of needing to be cleaned and the water never got cloudy or dirty, so the filter is obviously doing a good job. I have no doubt that if one has a cat or cats that like moving water, this fountain would be a terrific addition to the "cat accessories" at the buffet. There are product reviews on Amazon.com where people absolutely swear by this fountain. Perhaps their kitties are braver than mine. The Petsafe Drinkwell Lotus Water Fountain was provided to me free of charge in exchange for a product review. Thank you for reading this article. Your questions and comments are completely welcome (I'll respond).
Please feel free to communicate with me through Twitter (
@PatrickMahaney
) and follow my adventures in veterinary medicine by liking
Patrick Mahaney: Veterinarian Acupuncture Pain Management for Your Pets
on Facebook. Copyright of this article (2013) is owned by Dr Patrick Mahaney, Veterinarian and Certified Veterinary Acupuncturist. Republishing any portion of this article must first be authorized by Dr Patrick Mahaney. Requests for republishing must be approved by Dr Patrick Mahaney and received in written format.