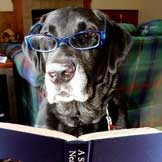 This article originally appeared on Dr. Mahaney's
The Daily Vet
column on petMD. Being a very visual person who is easily stimulated by the images I see on television and online, I read to calm my mind late at night before dozing off for some much needed rest. So, I've put together my top five (i.e., the only five I've actually fully read) pet-related books of 2012. Not all of these texts were published in 2012, but they happen to fall within my spectrum of interest or my availability to engage in some pseudo-recreational reading.
by Neil Abramson This touching, supernatural tale explores the bonds people have with each other and their pets from the perspective of a recently deceased veterinarian, Helena, who shares her insights as she observes the challenges and victories of her husband, David, who is left to tend to their shared canine, feline, and equine brood. I greatly enjoyed the story, yet it is hard to turn off my clinical brain when recreationally reading (something I'm working on for 2013). I found myself occasionally scratching my head in wonder at some of the medical information. For example, one cannot actually determine the physical size of a heart chamber by merely listening with a stethoscope (auscultation). This can only be done via echocardiogram (ultrasound of the heart). Clinical perspective aside, it was inspiring to read about David's developing relationship with the animal companions left to his care as a means of preserving the memory of his deceased partner.
by Emma Townsend This intriguing work of nonfiction vividly describes the perspectives Charles Darwin had in developing his evolutionary theories; that human beings and animals share a common ancestry. As a scientist and believer in man's evolution from primordial beings, it was refreshing to read the vivid descriptions of the ways in which humans' behaviors and physical characteristics could be tied to the realm of animals. Thank you to Elizabeth Hanson from
Troff
for turning me on to this excellent book.
by Garth Stein As a means of temporarily escaping the realm of my daily work life treating dogs and cats, I am often drawn to books that don't directly involve animals as their main characters. Reading this book went against my normal trend, but I found myself unable to put it down due to the dark and absorbing exploration of the relationship between owners and their canine companions, both in good times and in bad. We get to follow a dog named Enzo as he progresses through life observing the struggles faced by his human family. Unfortunately for Enzo, his master, Denny, could have been more thorough in exploring treatment options for Enzo's mobility compromising conditions. You see, Enzo has
hip dysplasia
, which causes him to experience joint inflammation (arthritis) and pain. Surprisingly, Enzo informs us that Denny's veterinarian has informed them that "there was nothing else he could do except, some day in the future, perform expensive surgery to replace my defective parts." Fortunately, Enzo was prescribed anti-inflammatory medication for his discomfort. Yet, there are many additional means of keeping dogs like Enzo comfortable while taking smaller quantities or less frequent doses of pain medication, including nutraceuticals (supplements), acupuncture, massage, physical rehabilitation, etc.
by Michael W. Fox Ph.D, D.Scl, M.R.C.V.S, Elizabeth Hodgkins D.V.M., and Marion E. Smart D.V.M, Ph.D. As a holistic veterinarian with a keen interest in the health benefits stemming from the foods we and our pets eat, I was very enthused to read this book. I believe in feeding myself, my dog, and my patients diets that are whole food based instead of highly processed. The highly processed options are filled with feed-grade ingredients with higher allowable levels of toxins, and potentially carcinogens, as compared to human grade foods. (See
Are You Poisoning Your Companion Animal By Feeding Pet Grade Foods?
) Some of the information yielded in this book may (and should) shock pet owners who have been lulled into the belief that kibble or processed canned foods are truly the healthier and most appropriate options for our companion canines and felines. From pet food recalls to home prepared diets for dogs and cats, this book has many pearls of wisdom that are easily understood and highly applicable to pets owners worldwide.
by Seth Casteel Reading shouldn't always be so serious; it can also be fun and filled with eye-catching photos that keep you flipping the pages. Casteel's creative images of menacing looking dogs diving underwater to retriever their beloved toy creates remarkably strong visuals that will make you look at your own dog from a new perspective. Have you read any of the above books? What are your thoughts on these texts, subjects, or authors? And feel free to share your suggestions for pet-themed books you have read and/or that I should review in 2013.
Dr. Patrick Mahaney Image: Rocky's favorite book by dchrisoh / via Flickr Thank you for reading this article. Your questions and comments are completely welcome (I'll respond). Please feel free to communicate with me through Twitter (
@PatrickMahaney
) and follow my adventures in veterinary medicine by liking
Patrick Mahaney: Veterinarian Acupuncture Pain Management for Your Pets
on Facebook. Copyright of this article (2012) is owned by Dr Patrick Mahaney, Veterinarian and Certified Veterinary Acupuncturist. Republishing any portion of this article must first be authorized by Dr Patrick Mahaney. Requests for republishing must be approved by Dr Patrick Mahaney and received in written format.