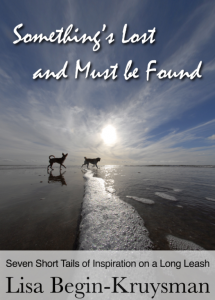 Lisa Begin-Kruysman's
Something's Lost and Must Be Found: Six Short Tails of Inspiration on a Long Leash
is an intriguing collection of stories profiling the familiar and otherworldly relationships between people and companion animals. In reviewing the tales, my scientific mind always defaults back to the veterinary perspective and primarily focuses on canine and feline health. My thoughts on this enjoyable read will be divided into three parts. Part 1 is as follows:
Found
In Found, our main character takes a road trip from New Jersey to Florida with her husband and new companion, Antonio, a 7 year old rescue Havanese. The goals of the journey are to bond to their new canine family member and to break the cycle of sadness caused by the drowning death of their child. Unfortunately, the reestablished serenity of the vacation is broken when Antonio goes missing. As Antonio was reported to be wearing an identifying tagged collar, my immediate reaction was to be hopeful for his safe return. Although, visible external displays of owner information don't necessarily guarantee the return of a pet. Collars can be removed or fall off. I wonder if Antonio had been implanted with a microchip, which could further ensure his safe and timely homecoming. I was relieved to read that Antonio was finally found in the closet inside the rental property. Fortunately, Antonio seemed no worse for wear but having to hold his bladder for an extended time and needing to thoroughly rehydrate himself. If Antonio was showing clinical signs of illness secondary to his confinement without food or water, such as lethargy, immobility, vomiting, or diarrhea, then I hope he would immediately be taken for an evaluation by a veterinarian. With Antonio being lost and subsequently found, the newly established bond with his new family was certainly strengthened.
Grooming Conversation
In Grooming Conversation, Sammy, the eight year old Golden Retriever, suffers from mild coat care neglect until the main character (who I will call "Father") calls upon his teenage son (Jake) to freshen up Sammy's fur. Besides genuinely being concerned about Sammy's skin and coat health, Father has an ulterior motive to reconnect with his maturing son. Father and Jake bond over Sammy's bath and reminisce about the time Sammy got bit by a Boxer when they discover the resulting scar. Having seen many dog fights leading to serious injury, it is fortunate that Sammy only endured a skin injury. Based on the scar hidden by the hair on his head, it seems that Sammy's wound has completely healed. Considering the many skin issues (hair matting, dermatitis, pyoderma, etc) that stem from lack of or improper grooming I was pleased to hear Father's admonishment that Jake must take better maintain Sammy's coat. Ultimately, much good was achieved through during the Sammy's grooming session, as both canine and human family members benefitted. Part 2 of my review of
Something's Lost and Must Be Found
to follow. For now, here is cute photo of Lisa Begin-Kruysman and her dog to tide you over.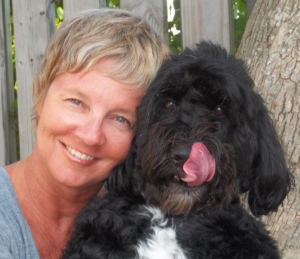 Please see my other book reviews on
Patrick's Blog
:
The Complete Cat's Meow by Darelene Arden
Could Enzo From The Art of Racing in The Rain Have Lived More Comfortably As A Senior Dog
I (Heart) My Dog by the Editors of Women's Day
Please feel free to leave your comments or communicate with me through email (
patrick@patrickmahaney.com
) or Twitter (
@PatrickMahaney
). Thank you for reading my article. To receive my next veterinary posting via email, please press the "Don't Miss a Blog Post" button on the right upper corner of this page or follow
this link
. Make sure to follow my adventures in veterinary medicine by friending
Patrick Mahaney: Veterinarian Acupuncture Pain Management for Your Pets
on Facebook. Copyright of this article (2011) is owned by
Dr. Patrick Mahaney
, Veterinarian and Certified Veterinary Acupuncturist. Republishing any portion of this article must first be authorized by Dr. Patrick Mahaney. Requests for republishing must be approved by Dr. Patrick Mahaney and received in written format.