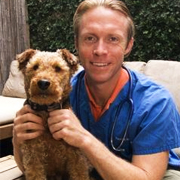 My professional associate (and fellow Penn alumnus)
Laura Bennett
from Embrace Pet Insurance have partnered for another monthly podcasts on a relevant pet health topic. Pet disaster and emergency preparedness is a concern that any dog, cat, or other animal owner can relate to regardless of where you live and the time of year. Check out:
Pet Disaster Preparedness
Today's topic is disaster preparedness for pets, something to think about as fires rage, hurricanes threaten, and earthquakes lurk. Our monthly podcast starts with Dr Patrick Mahaney talking about disasters he has had to face in his practice followed by these questions:
Adrienne: could you touch on some of the common disasters encountered in regional areas of the country and perhaps some uncommon ones that people may not think of or are aware of?
Kate: I'm guessing we should have a plan in place in case of disaster for our pets... what would that plan look like?
Adrienne (who has a volunteer search and rescue dog): could you outline the necessary items to be included in a disaster preparedness kit:

What things you will need to care for your pet in the event of a disaster or if you would need to evacuate (floods, fires, hurricanes, etc.)
What types of contact information and identification for the pet do you need in case you should become separated.
Also what the length of time the kit should cover and how often it should be updated/changed?

Katie: During Sandy, those who didn't evacuate were forced to leave their pets behind for days, some a week or more, until the barrier island reopened. While we all know having evacuated sooner could have avoided the issue, are there any suggestions on what to do in that event to help keep your pet safe until you can return?
Click on the link below for the podcast.
Laura Bennett & Dr Patrick Mahaney disaster preparedness 2013
Thank you for reading this article. Your questions and comments are completely welcome (I'll respond).
Please feel free to communicate with me through Twitter (
@PatrickMahaney
) and follow my adventures in veterinary medicine by liking
Patrick Mahaney: Veterinarian Acupuncture Pain Management for Your Pets
on Facebook. Copyright of this article (2013) is owned by Dr Patrick Mahaney, Veterinarian and Certified Veterinary Acupuncturist. Republishing any portion of this article must first be authorized by Dr Patrick Mahaney. Requests for republishing must be approved by Dr Patrick Mahaney and received in written format.