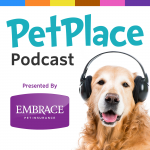 Are you prepared to care for your pet in the face of an emergency? As unexpected circumstances can occur unpredictably and at a moment's notice, it's best for owners to always think ahead to best avoid injury or illness when an unexpected circumstance arises. In this month's Pet Place Podcast, Laura Bennett (Embrace Pet Insurance CEO & Co-Founder) and I discuss emergency pet preparedness. Click here to listen to the podcast in full:
http://www.embracepetinsurance.com/blog/podcast-dr.-mahaneys-tips-for-all-ages
Feel free to share this link with your fellow pet-owning friends, family, etc.
Copyright of this article (2016) is owned by Dr Patrick Mahaney, Veterinarian and Certified Veterinary Acupuncturist. Republishing any portion of this article must first be authorized by Dr Patrick Mahaney. Requests for republishing must be approved by Dr Patrick Mahaney and received in written format.