Halloween is typically a festive holiday for humans, but it can be stressful and potentially dangerous for pets. Follow my top 5 Halloween pet safety tips to ensure you and your pet have a safe and fun time.
Prevent your pet's consumption of Halloween candy
Ingestion of chocolate, sugar, fat, and other ingredients found in Halloween candy can be potentially harmful to your pet (see Pet Care 101- Why is Chocolate Unhealthy for My Dog).  All candy must be kept out of reach of your pet.  Many dogs are known for their "counter surfing" skills, so don't underestimate a dog's ability to vertically launch in attempt to reach tempting treats.  Put your child's Halloween candy stash in sealable plastic container inside a cabinet out of reach of both pets and kids.  If you suspect your pet has consume a toxic substance, please call your veterinarian or the ASPCA Animal Poison Control Center at (888) 426-4435.
 
Avoid stressful Halloween situations
There are many stressors occurring around Halloween that can adversely affect your pet's behavior.  Repeat doorbell ringing, doors opening and closing, loud exclamations of "trick or treat", and strangers entering the proximity of your home can all cause excessive stimulation to your pet. If your pet barks excessively, becomes aggressive, hides, or exhibits other behaviors as a result of the many stressors occurring around Halloween, arrange an overnight play date or visit with your pet sitter.
 
Be cautious with Halloween decorations
How fun is it to decorate around Halloween and other holidays?  Growing up, I always enjoyed carving pumpkins and putting up lights to give my home that perfect spooky feel.  Lit candles placed inside a pumpkin or other areas of your home can create a fire hazard for both you and your pet (see Ricki Lake Fire Tragedy Teaches Lessons in Pet Emergency Preparedness).  Switch out a flammable light source for one powered by batteries in your pumpkin this holiday season.  Electric cords from decorative lights can tempt your pet to play with them or take a taste, potentially leading to strangulation, shock, or death.  Keep all cords, strings, and Halloween decorations out of your pet's reach.
 
Keep your pet properly identified
High volume Halloween guests lead to your home's front door being frequently opened.  Additionally, the excitement surrounding the arrival of costumed revelers arrival may lead to your lack of full attention to your pet's location.  If your pet escapes, they may be returned to your home more readily if a collar with tags bearing up to date identification is worn.  An implanted microchip can add an extra layer of security should the collar or tag come off.  Additionally, make sure you keep your personal information up to date with the microchip company.
 
Pet appropriate Halloween costumes must be worn only under strict observation
Some pets love to wear Halloween costumes, while others cower in anticipation of fabric, plastic, or other materials being applied to their bodies.  Never force your pet to wear a costume, as their desperate attempt to remove the costume could lead to trauma.  If your pet tolerates a costume, always keep them under close visual observation.  Consider that any or all parts of the costume could be ingested, leading to serious gastrointestinal abnormalities (vomit, diarrhea, obstruction, etc). Trim off strings and extra material that could get caught around your pet's neck or muzzle causing lack of blood flow.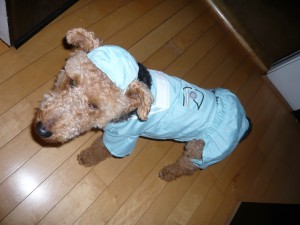 Thank you for reading my article. To receive my next article via email, please press the "Don't Miss a Blog Post" button on the right upper corner of this page or follow this link.
Copyright of this article (2010) is owned by Dr. Patrick Mahaney, Veterinarian and Certified Veterinary Acupuncturist. Republishing any portion of this article must first be authorized by Dr. Patrick Mahaney.
Requests for republishing must be approved by Dr. Patrick Mahaney and received in written format.