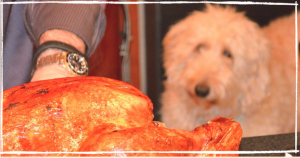 Digestive tract upset, including vomiting, diarrhea, and anorexia (decreased appetite) are the typical reasons motivating owners to bring their pet in for veterinary examination, diagnostic testing, and treatment. This observation stems from the trend for pets to receive table foods that they otherwise may not be used to eating during winter holidays.
Learn about my top suggestions for keeping your pets safe from having food-related digestive tract upset via this article Pet Food Safety During the Holidays 
Thank you for reading this article.  Your constructive comments are welcome (although I may not respond).
Please follow my adventures in veterinary medicine and life via:
Copyright of this article (2015) is owned by Dr Patrick Mahaney, Veterinarian and Certified Veterinary Acupuncturist. Republishing any portion of this article must first be authorized by Dr Patrick Mahaney. Requests for republishing must be approved by Dr Patrick Mahaney and received in written format.