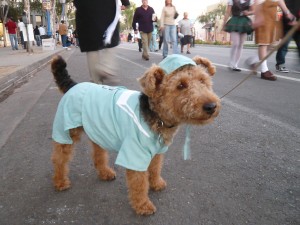 This article appeared on petMD as part of Dr Mahaney's The Daily Vet series.
Halloween candy, festive decorations and creepy costumes all sound fun for people, but they create stressful situations and harbor potential dangers for your pets.
As a holistic veterinarian, my top Halloween pet safety tip is to be aware of and prevent all possible causes of toxicity or trauma. As the primary overseers of our pets' welfare, we must ensure the safety of our companion animals despite the additional effort, inconvenience, or expense.
Keep Halloween Candy Out of Your Pet's Reach
Although chocolate is highly concerning for its stimulating effect on dogs, the sugar, fat, and artificial colors and flavors found in Halloween candy (when consumed) can also lead to gastrointestinal illness. National Geographic provides an interactive Chocolate Chart to help dog owners navigate the potential for illness should chocolate be consumed.
For the sake of your pet's health and your finances, it is always better to avoid toxicity. Keep all holiday edibles out of your pet's reach. Put your children's candy stash in sealable plastic containers kept in a location inaccessible to pets.
If your pet does suffer a suspected or known exposure to candy or other toxin, call your veterinarian or a professional toxicity management organization. (ASPCA Animal Poison Control Center at (888) 426-4435 or Pet Poison Helpline 800-213-6880)
Be Cautious With Halloween Decorations
Growing up, I always enjoyed carving pumpkins and putting up lights to "spookify" my parents' home. In my adulthood, I'm more cautious in my approach to holiday decorating.
Although I advocate feeding cooked pumpkin to pets (as it provides a moist, nutrient dense fiber source), a jack-o'-lantern quickly rots and can serve as a mold and bacteria rich curiosity for your pet. Immediately dispose of your pumpkin at the first hint of decay (color change, bad smell, etc.).
Lit candles placed inside a pumpkin or other areas of your home create a fire hazard for both you and your pet (see Ricki Lake Fire Tragedy Teaches Lessons in Pet Emergency Preparedness). Trade candles for battery powered lights in your pumpkin and any room that is frequented by pets.
Electric cords from decorative lights double as an unsafe play toy, especially for cats. Kitty or canine curiosity could lead to life threatening electric shock, heart and lung malfunctions (non-cardiogenic pulmonary edema), or even death.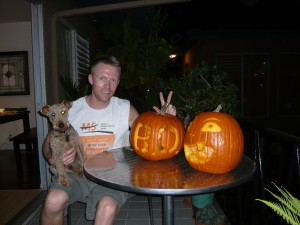 Dress Your Pet Only in Appropriate Halloween Costumes Under Strict Observation
Some pets readily allow themselves to be adorned in Halloween costumes, while others cower in anticipation of fabric, plastic, or other materials being applied to their bodies. Never force your pet to wear a costume, as the desperate attempt at removal could lead to blunt trauma or strangulation.
Always keep costume tolerating pets under close visual observation. Any or all costume components could be ingested and cause serious gastrointestinal illness (vomit, diarrhea, obstruction, etc.). Strings and extra material should also be trimmed.
Avoid or Reduce Stressful Halloween Situations
Halloween has many stressors that can adversely affect your pet's behavior: the doorbell repeatedly ringing, doors frequently opening and closing, "trick or treat" being loudly exclaimed, and strangers entering your shared home turf. All the excess stimulation may lead to canine or feline behavior changes, including vocalizing, aggression, pacing, cowering, destroying a confining space, or inappropriate urination or defecation.
If your pet is prone to such behaviors, minimize any stressful triggers. Arrange an overnight stay in a non-Halloween celebrating household. If your pet remains in your home, engage in energy draining activity a few hours before the perceived stressful event. Veterinary recommended natural products or prescription medications can be used on an as needed basis to relieve anxiety or induce a sedated state.

Properly Identify Your Pet
The frequent opening and closing of your door, paired with the excitement surrounding the arrival of costumed revelers, may distract you from your pet's location.
Runaway pets are more likely to be reconnected with their owners if a collar bearing up to date identification is worn. As collars and tags can fall off or be removed, an implanted microchip can add an extra layer of security. The microchip will be scanned at a veterinary hospital or shelter, but your personal information must be kept up to date with the microchip company to ensure you are contacted.
I greatly appreciate that safer living for pets and peace of mind for pet owners has been established through our ubiquitously present mobile devices. Technological advances now enable us to monitor a pet's location via GPS, such as with the Tagg Pet Tracker. If your pet travels beyond the established perimeter, you will be notified by text or e-mail.
Keeping our pets safe from danger is not a topic exclusive to Halloween, as there is much cross over with every other major holiday. Prioritizing pet safety in your daily life will help decrease the likelihood that toxicity or trauma will occur during a holiday.
Thank you for reading my article. To receive my next article via email, please press the "Don't Miss a Blog Post" button on the right upper corner of this page or follow this link.
Please feel free to communicate with me through email (patrick@patrickmahaney.com) or Twitter (@PatrickMahaney).
Follow my adventures in veterinary medicine by friending Patrick Mahaney: Veterinarian Acupuncture Pain Management for Your Pets on Facebook.
Copyright of this article (2011) is owned by Dr. Patrick Mahaney, Veterinarian and Certified Veterinary Acupuncturist. Republishing any portion of this article must first be authorized by Dr. Patrick Mahaney. Requests for republishing must be approved by Dr. Patrick Mahaney and received in written format.