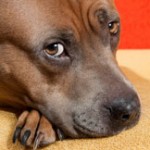 This article originally appeared on Dr. Mahaney's The Daily Vet column on PetMD as 
Dog's Horrific 4th of July Trauma Reinforces Need for Firework Safety
. We veterinarians are always seeking ways to help the pet loving community keep their companion canines and felines safe. Fourth of July is one of those holidays that have the potential to be especially traumatic for dogs, cats, and other animals due to the plethora of man-made hazards associated with the festivities. For one unfortunate southern California pooch, the 2013 July 4th celebrations were especially traumatic. A two-year old (estimated), male Pit Bull Terrier suffered severe burns suspected to be caused by fireworks being strapped to his limbs. The dog, now being called Indy (short for Independence Day), was found on July 5th near Van Nuys, CA and brought to the East Valley Animal Shelter. Rene Ruston of 
Shelter Transport Animal Rescue Team 
(S.T.A.R.T.) arranged for Indy to be pulled from the shelter and taken for veterinary evaluation and treatment. The attending veterinarian at Westlake Village Animal Hospital, Dr. Daniel Slaton, determined that Indy's burns were most consistent with those caused by an incendiary device. "Fireworks were strapped to him and basically lit on fire, and (he) has third degree burns on most of his rear legs, his paws, and part of his thorax," said Dr. Slaton. The good news is that Indy is recovering. Shelter volunteer Allison Polumbus saw Indy upon his arrival at the animal hospital. She noted his progress in saying, "When I saw him on Sunday, his chances were nothing, and now he's getting real help from people. But it's going to be a long, painful road." Unfortunately, funding Indy's ongoing medical care requires the help of good Samaritans. Ruston is 
seeking donations on Indy's behalf
 (click the link to go to S.T.A.R.T.'s donation page). Having witnessed this kind of animal abuse many times during her years of involvement in animal rescue, Ruston is concerned about the potential that innocent people could potentially be harmed by the type of person who so cruelly hurt Indy. "This type of cruelty doesn't end at dogs," she said. "These types of people will carry it through, and they will harm children." If you have any information about the individuals responsible for harming Indy, please contact: 
info@startrescue.org
. A $1,000 reward is being offered by an anonymous donor for information leading to the arrest of the person or groups responsible for Indy's trauma. To stay up to date with all the latest Indy news, including some great videos showing his progress, you can visit the 
S.T.A.R.T. Rescue Facebook page
. In general, it's best to leave your pet in the safe confines of your home and unexposed to stressful stimuli. Bright lights, loud noises, and hectic crowds can motivate our canine and feline friends to hold their own version of Independence Day by attempting to escape from scary situations. Take advantage of the 24 hours before a stressful event to exercise your pet into a calmer state. Adequately fatigued pets are more prone to resting and are less likely to exhibit anxious behaviors (attempting to escape, cowering, hiding, destroying household objects, inappropriately urinating or defecating, pacing, panting, salivating, vocalizing, etc.). As needed, natural stress-relieving remedies (such as Rescue Remedy Pet), human drugs (Diphenhydramine Hydrochloride [Benadryl Allergy], Alprazolam [Xanax], etc.), or veterinary prescription drugs (Acepromazine, etc.) can also be used to provide mild sedation or to reduce anxiety until the scary situation is over. All such products should be used under the guidelines of your pet's veterinarian. Around "bombs bursting in air" time, isolate the pets inside your home to a quiet, cool, segregated area. Exterior sounds can be obscured by increasing the volume of your pet's favorite television program or playing calming music. A sturdy, appropriately-sized crate can prevent your pet from attempting to to lunge at doors or windows, or destroy or consume household objects. Even better would be to completely remove your pet from explosive-related stressors by arranging for an overnight play date at a friend's firework-free home or a stay at a familiar boarding facility. I wish Indy continued strength in his recovery and commend Dr. Slaton and Rene Ruston for giving him a second chance. Additionally, I hope the people responsible for his inhumane treatment are brought to justice. For more information, see these news videos that tell Indy's story:
Pit bull 'Indy' recovering after burned by fireworks
Reward Offered After Dog Burned in Possible July 4 Fireworks Prank
Dr. Patrick Mahaney Image: 
Vikacita
 / 
Shutterstock
Thank you for reading this article.  Your questions and comments are completely welcome (I'll respond). Please feel free to communicate with me through Twitter (
@PatrickMahaney
) and follow my adventures in veterinary medicine by liking 
Patrick Mahaney: Veterinarian Acupuncture Pain Management for Your Pets
 on Facebook. Copyright of this article (2013) is owned by Dr Patrick Mahaney, Veterinarian and Certified Veterinary Acupuncturist. Republishing any portion of this article must first be authorized by Dr Patrick Mahaney. Requests for republishing must be approved by Dr Patrick Mahaney and received in written format.