I have many things to be thankful for this holiday season. As Thanksgiving is my favorite holiday (Christmas is way too commercial and I practice
agnosticism
), I look forward to showing appreciation toward all the positive aspects of my life. My health is good, I have a supportive family and partner, business is booming, and my Welsh Terrier, Cardiff, continues his run of disease remission. It has been almost a full 12 months since the latest recurrence of Cardiff's
Immune Mediated Hemolytic Anemia (IMHA)
. I always maintain a degree of underlying anxiety when things are going so well and significant chronological landmarks are reached. I deal with this anxiety by closely observing every nuance of Cardiff's behavior for clinical signs that his disease may be returning (lethargy, decreased appetite, pale gums and tongue, increased respiratory rate and effort, joint pain, etc). Now that I am more experienced in treating his particular form of IMHA, I know that his condition is manageable and not definitively fatal. I treat Cardiff's IMHA from both a Western and traditional Chinese veterinary medical (TVCM) perspective (see
Using Integrative Veterinary Medicine to Treat Illness Affecting My Dog
-
Part 1
and
Part 2
). This approach has yielded a less severe clinical manifestation of illness, more rapid recovery, and longer period of disease remission. The latest good news is that his laboratory tests were commensurate to a dog not undergoing long term therapy with an immunosuppressive drug. Cardiff is now so healthy that he writes (well, actually, he dictates to me)
Cardiff's blog
to share his perspective on illness, recovery, doggy style, and travel. Cardiff has even started doing
pet assisted therapy
through
Actors and Others for Animals
so that he can brighten the day of nursing home and hospital patients.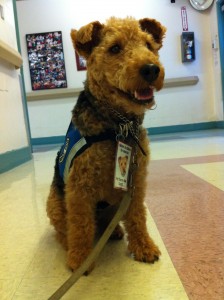 As I reflect this Thanksgiving holiday, I am so grateful to Cardiff for his resilient constitution, which permits his optimal response to the IMHA treatment process. If he lacked such spunk and vivaciousness, he may not have recovered as readily. I am thankful to have back my hiking, lounging, and life adventure buddy! Thank you for reading my article. To receive my next article via email, please press the "Don't Miss a Blog Post" button on the right upper corner of this page or follow
this link
. Copyright of this article (2010) is owned by Dr. Patrick Mahaney, Veterinarian and Certified Veterinary Acupuncturist. Republishing any portion of this article must first be authorized by Dr. Patrick Mahaney. Requests for republishing must be approved by
Dr. Patrick Mahaney
and received in written format.