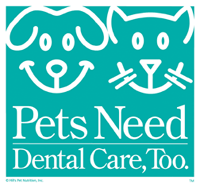 Although February is Pet Dental Health Month, you shouldn't wait until this wintery month rolls around to promote your pets' dental health. Keep your pet's mouth healthy all year long by taking good care of your pet's teeth through a combination of professional and home dental care. Check out my top pet dental health tips via the following article for PetSafe -
Improve Your Pet's Dental Health: Prevention, Diagnosis & Treatment of Periodontal Disease
  (Click the hyperlinked article title to read it in full).
Thank you for reading this article.  Your questions and comments are completely welcome (I'll respond).
Copyright of this article (2014) is owned by Dr Patrick Mahaney, Veterinarian and Certified Veterinary Acupuncturist. Republishing any portion of this article must first be authorized by Dr Patrick Mahaney. Requests for republishing must be approved by Dr Patrick Mahaney and received in written format.