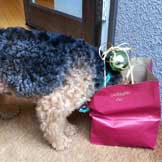 Although this post went live for Christmas 2012, its message rings true year round. This article originally appeared on Dr. Mahaney's The Daily Vet column on petMD.
Happy holidays, Merry Christmas, and joyous "whatever" may be your preferred means of celebrating with family and friends during winter's months.
For me, this time of year has special significance as the transition from Thanksgiving into Christmas marks the anniversary of my dog Cardiff's last episode of Immune Mediated Hemolytic Anemia (IMHA). In fact, the last time he recovered from this chronic and often fatal disease was at the end of 2009.
One of my favorite memories of Cardiff is him maniacally squeaking a Bad Cuztoy he received as a Christmas gift (thanks Grandma Gerry!). The seeming mania with which he squeaks is actually one of the side effect of the steroids needed to suppress his immune system's instruction of his own red blood cells. (SeeCardiff on 'Roids (featuring Baz Cuz). The incessant noise drives me crazy, but I'd gladly hear Cardiff's enthusiastic behavior over the panting, groaning, and other sounds he emits during times of illness.
Actually, his health has never been better, in part because of the daily action I take to reduce the likelihood he'll have another occurrence. My holistic approach to Cardiff's care involves the following components and has motivated me to share my experiences and perspective with petMD readers:
1. Lifestyle modification
Avoiding dog parks, confinement in a hospital or kennel facility, and other situations that cause unnecessary excitement, stress, or exposure to infectious organisms.
See:
a) Is Bringing Your Pet to Work the Healthiest Decision?
b) Prioritize Your Pet's Safety When 'Bombs are Bursting' in the Air
c) Ticks: Opportunistic Bloodsuckers and Vectors for Disease Transmission
d) Clinical Signs, Infectious Diseases, and Natural Treatment Options for Fleas
2. Infection and inflammation reduction
Cleansing Cardiff's teeth and gums to reduce periodontal disease and supporting his joint health through an oral chondroprotectant (joint support product) and omega fatty acid supplement.
See:
a) Importance of Periodontal Health in Maintaining Your Pet's Heart Health
b) Top Three Tips for Pet Dental Care from a Veterinary Dental Specialist
3. Whole food diet and lean body maintenance
Providing freshly prepared, moist, whole food nutrition based on Chinese medicine principles (to "cool" the heat energy that potentially leads to an overactive immune system); foods that are of the same quality as the foods consumed by humans (i.e., no processed kibble or canned foods); and foods without excess calories.
See:
a) Are You Poisoning Your Companion Animal by Feeding Pet Grade Foods?
b) The Chicken, the Egg, and the Rabbit: Which Comes First on My Food Energy List?
c) The Health Benefits Pumpkin Provides for Our Pets
d) Health Implications Associated with Pet Obesity
e) How My Personal Journey from Fat to Fit Applies to You and Your Pets
4. Avoidance of immune system overstimulation
Performing blood tests (antibody titers) to determine the current level of immunity his body has mounted to previous vaccinations.
See:
a) Molly's Bill Exempts Some Dogs from Rabies Vaccination
*
This is the approach I take in addressing the health of my canine and feline patients on a day-to-day basis, which is summarized in Top Five Holistic Pet Health Strategies.
I strive to not sound preachy, but I must stress that the most important thing you should do on a daily basis is prioritize the health of your pets and yourself. When your or your pet's health begins to fail as a result of not taking logical preventive measures (whole food based diet, exercise, weight maintenance or reduction, etc.), then a potentially irreversible chain of physiologic events occurs that could seriously compromise one's financial situation, ability to function, and overall quality of life.
With that said, it's been an honor and pleasure to regularly express my perspective on veterinary medicine through The Daily Vet. I greatly enjoy and appreciate the opportunity to reach a diverse audience of pet lovers worldwide. For those of you who have regularly read and commented on my posts, I thank you and am grateful for your readership.
Make sure to check back next week for the summary of my top five pet stories of 2012.
Dr. Patrick Mahaney
Thank you for reading this article.  Your questions and comments are completely welcome (I'll respond).
Please feel free to communicate with me through Twitter (@PatrickMahaney) and follow my adventures in veterinary medicine by liking Patrick Mahaney: Veterinarian Acupuncture Pain Management for Your Pets on Facebook.
Copyright of this article (2012) is owned by Dr Patrick Mahaney, Veterinarian and Certified Veterinary Acupuncturist. Republishing any portion of this article must first be authorized by Dr Patrick Mahaney. Requests for republishing must be approved by Dr Patrick Mahaney and received in written format.