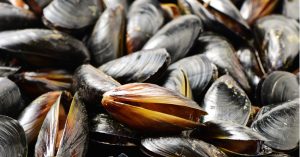 There are so many options available for owners to give as treats to our canine and feline companions, but which ones are healthier or less-healthy for your pet?
I always recommend owners only offer treats they'd be willing to eat themselves and those that are human-grade, whole-food, and are free from chemical preservatives and artificial colors and flavors. Such is why I recommend treats from The Honest Kitchen for my cat and dog patients.
A new treat from The Honest Kitchen is coming to market. Nice Mussels are a protein-rich tasty morsel that look just like the mussels you'd consume straight from the shell but in freeze dried format.
Learn more about Nice Mussels via this article The Health Benefits Mussels Provide Our Pets.
Dr. Patrick Mahaney Thank you for reading this article. Your questions and comments are completely welcome. Please feel free to communicate with me through Twitter (
@PatrickMahaney
) and follow my adventures in veterinary medicine by liking
Patrick Mahaney: Veterinarian Acupuncture Pain Management for Your Pets
on Facebook. Copyright of this article (2016) is owned by Dr Patrick Mahaney, Veterinarian and Certified Veterinary Acupuncturist. Republishing any portion of this article must first be authorized by Dr Patrick Mahaney. Requests for republishing must be approved by Dr Patrick Mahaney and received in written format.