February was National Cat Health Month, so as a practicing holistic veterinarian, I've got much to say about the means by which owners should best care for their feline friends.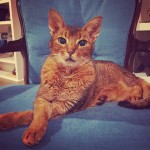 I first have to state that owners must make their cat's health a daily priority. This means that efforts should be made each day to prevent and reduce bodily ailments; even if doing so may be inconvenient or require effort or expense. As so many cats suffer from otherwise preventative diseases, owners who commit themselves to proactively preventing such conditions will have healthier companions who will likely live longer, have a better quality of life, and incur fewer veterinary expenses.
Here are my Top Five Feline Health Tips for Nation
al Cat Health Month
Dr. Patrick Mahaney Thank you for reading this article. Your constructive comments are welcome (although I may not respond). Please follow my adventures in veterinary medicine and life via:
Instagram @PatrickMahaney
Facebook Patrick Mahaney, Veterinarian: Acupuncture Pain Management for Your Pets
Twitter @PatrickMahaney
Copyright of this article (2016) is owned by Dr Patrick Mahaney, Veterinarian and Certified Veterinary Acupuncturist. Republishing any portion of this article must first be authorized by Dr Patrick Mahaney. Requests for republishing must be approved by Dr Patrick Mahaney and received in written format.