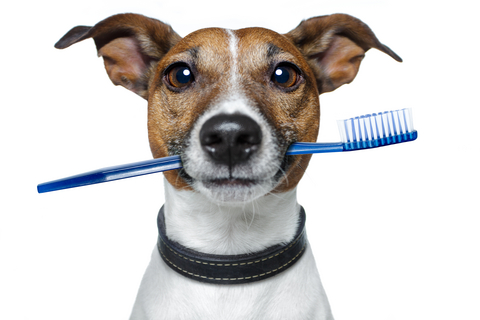 Pet periodontal health is a topic that I'm especially passionate about in taking care of my veterinary patients. Although February is National Pet Dental Health Month, you should be prioritizing your dog and cat's teeth and gums (and therefore internal organs) on a daily basis. Check out my dental-themed podcast collaboration with
Embrace Pet Insurance president Laura Bennett
. See:
Your Questions on Pet Dental Health With Dr. Patrick Mahaney
(click link to hear the podcast on the Embrace website).
In our podcast, Dr Patrick and I address the following questions: What is the current status of dog and cat dental health - good, bad, or plain ugly? Why is brushing your pet's teeth so important? How can you make it a positive and simple daily task if you're just beginning to brush their teeth? What are some examples of instances when it might be best to forgo dental care? What OTC products work best for helping to control dental tartar, etc. (examples are the water additives, gels, chews, etc.) for your pet in addition to brushing their teeth? I've heard that once you do a dental cleaning, you have to continue doing them regularly because it wears away the teeth and leaves them vulnerable. Is that true?
Thank you for reading this article. Your questions and comments are completely welcome (I'll respond).
Copyright of this article (2014) is owned by Dr Patrick Mahaney, Veterinarian and Certified Veterinary Acupuncturist. Republishing any portion of this article must first be authorized by Dr Patrick Mahaney. Requests for republishing must be approved by Dr Patrick Mahaney and received in written format.