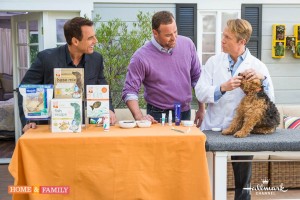 I enjoy the opportunity to share my veterinary perspecive in a variety of media outlets. It was great to make my second apperance on Hallmark Channel's Home & Family to discuss National Pet Dental Health Month. To see the video on Hallmark Channel, click this link:
Pet Dental Care
. I've written about the importance of periodontal care for pets for PetMD's The Daily Vet. See:
Top Three Tips for Pet Dental Care from a Veterinary Dental Specialist
Thank you for reading this article. Your questions and comments are completely welcome (I'll respond). Please feel free to communicate with me through Twitter (
@PatrickMahaney
) and follow my adventures in veterinary medicine by liking
Patrick Mahaney: Veterinarian Acupuncture Pain Management for Your Pets
on Facebook. Copyright of this article (2015) is owned by Dr Patrick Mahaney, Veterinarian and Certified Veterinary Acupuncturist. Republishing any portion of this article must first be authorized by Dr Patrick Mahaney. Requests for republishing must be approved by Dr Patrick Mahaney and received in written format.