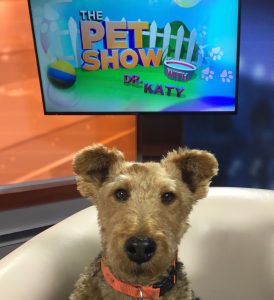 What strategies do you and your veterinarian take to keep your pets in tip top shape? Vaccinations are typically part of the strategy, but they are certainly not the only preventative health measure that should be taken.
For my patients that have been previously vaccinated and those having health issues I recommend taking a very tailored approach to each patient which may include vaccine antibody titers (blood testing) to determine a pet's current level of immunity.
I had the opportunity to share my perspective on vaccinations and antibody titers on the ABC 7 WJLA program The Pet Show with Dr. Katy. See Keeping Our Pets Healthy.
Dr. Patrick Mahaney
Thank you for reading this article. Your questions and comments are completely welcome. Please feel free to communicate with me through Twitter (@PatrickMahaney) and follow my adventures in veterinary medicine by liking Patrick Mahaney: Veterinarian Acupuncture Pain Management for Your Pets on Facebook. Copyright of this article (2016) is owned by Dr Patrick Mahaney, Veterinarian and Certified Veterinary Acupuncturist. Republishing any portion of this article must first be authorized by Dr Patrick Mahaney. Requests for republishing must be approved by Dr Patrick Mahaney and received in written format.