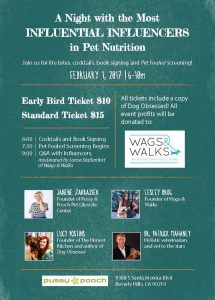 Are you aware of the quality of ingredients in the foods and treats that enter the mouths of your canine or feline companion? I'm a big advocate of reading labels of the foods and drinks that I consume in order to prevent toxic or less-than-health-yielding substances from entering my body and advocate the same approach for my patients.
Unfortunately, the majority of pets in the U.S. consume commercially-available processed food and treats that are made with feed-grade ingredients potentially containing substances that can be harmful on a short or long-term basis. Chemical preservatives, artificial flavors and colors, pathogenic bacteria, mold-produced toxins, moistening agents, and more end up being consumed by our pets sometimes without us even knowing it. As a result, your pet could rapidly fall ill or ailments can occur after months to years regular consumption of toxic edibles.
I covered this topic in the following article Cooking for Pets 101.
Fortunately, others feel the same way as I do, which is why I partner with The Honest Kitchen to promote the concept that pets should eat human-grade, whole-food diets and treats.
Recently, a documentary called Pet Fooled premiered, which shares the perspectives of two other holistic veterinarians, Drs. Karen Becker and Barbara Royal, on how processed pet foods are negatively impacting the health of our canine and feline companions.
Check out the trailer for Pet Fooled here- https://www.youtube.com/watch?v=2eVoicSHimI
I'll be attending a screening of Pet Fooled at Pussy & Pooch Pet Lifestyle Center in Beverly Hills on Wed 2/1/17 6-10P and participating in a panel with other pet nutrition influencers including Lucy Postins (Honest Kitchen founder), Janene Zakrajsek (Pussy & Pooch founder), Kohl Harrington (Pet Fooled director), and Lesly Brog (Wags & Walks rescue founder).
Please join me for this event, which will beneift Wags & Walks rescue.
Schedule
6-730PM cocktail hour and signing for Lucy Postins' book Dog Obsessed

7-9PM

Pet Fooled screening

9-10PM

pet nutrition influencer Q&A panel
Besides benefitting a good cause, ticket sales include a copy of Dog Obsessed. To find out more about this event or to reserve your seat click here:
https://www.eventbrite.com/e/a-night-with-the-most-influential-influencers-in-pet-nutrition-tickets-31102822379
Dr. Patrick Mahaney Thank you for reading this article. Your questions and comments are completely welcome. Please feel free to communicate with me through Twitter (
@PatrickMahaney
) and follow my adventures in veterinary medicine by liking
Patrick Mahaney: Veterinarian Acupuncture Pain Management for Your Pets
on Facebook. Copyright of this article (2017) is owned by Dr Patrick Mahaney, Veterinarian and Certified Veterinary Acupuncturist. Republishing any portion of this article must first be authorized by Dr Patrick Mahaney. Requests for republishing must be approved by Dr Patrick Mahaney and received in written format.