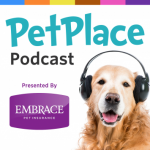 What do you feed your pet? The subject elicits much controversy among pet owners, food manufacturers, and veterinarians. Dr. Patrick Mahaney and Laura Bennett discuss a vaiety of pet nutrition topics in this Pet Place (Embrace Pet Insurance) Podcast, including: 1. Do the foods that tout added nutrients for things like joint health really help my dog? 2. What's the difference when a food is specially for seniors or puppies? Is it really valuable to switch foods as your pet ages? 3. What are the best budget-conscious options for dogs with food allergies? 4. If a dog will only eat once a day, is that a problem? Should he be eating more, smaller meals? 5. Do cats really need wet food? 6. What can you do to help an obese cat lose weight? Click here to listen to the podcast:
http://www.embracepetinsurance.com/blog/podcast-pet-nutrition
Thank you for reading this article. Your questions and comments are completely welcome. Please feel free to communicate with me through Twitter (
@PatrickMahaney
) and follow my adventures in veterinary medicine by liking
Patrick Mahaney: Veterinarian Acupuncture Pain Management for Your Pets
on Facebook. Copyright of this article (2016) is owned by Dr Patrick Mahaney, Veterinarian and Certified Veterinary Acupuncturist. Republishing any portion of this article must first be authorized by Dr Patrick Mahaney. Requests for republishing must be approved by Dr Patrick Mahaney and received in written format.