This article originally appeared on Dr. Mahaney's
The Daily Vet
column on petMD.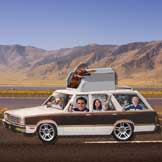 Having worked in clinical veterinary practice for over twenty years, I have seen innumerable examples of dogs and cats reacting in a manner exemplifying their perception of the creatures with whom they interact. From a dog wagging its tail to indicate willingness to engage to a cat hissing at an offending circumstance, a variety of physical manifestations exemplify our pets' biological response to their environment. Our pets are a great judge of character. If my dog Cardiff gives any signals that a particular person's presence or behavior is off-putting, we maintain our distance and keep our guard up. So, I wonder how Mitt Romney's dog Seamus felt about his "master" while being transported in a carrier on the roof of the family car over the span of a twelve hour road trip. Instead of being properly kept inside the car, Seamus was banished to the roof while the Romneys drove from Massachusetts to Ontario, BC, in June 1983. Reports of this incident garnered initial attention in
Neil Swidey's series
of 2007 Boston Globe articles published during Romney's first presidential run. Despite the wind-shield that was apparently incorporated into the crate's structure, Seamus was likely exposed to loud sounds associated with the wind, the Romney's car, and other vehicles. Additionally, other environmental stressors, including heat and humidity (it was summer in New England, after all), would create a less than safe environment for Seamus. The physical and emotional trauma created by Seamus's experience caused him to lose control of his bowels, prompting Romney to stop at a gas station to clean off the car, the carrier, and his distressed pooch. Unfortunately, Romney did not recognize the adverse effects his chosen canine transportation was having on Seamus; he returned him to the rooftop crate for the remainder of the drive. This is an experience that no living creature should be subjected to. Ingrid Newkirk, president and cofounder of
People for the Ethical Treatment of Animals
(PETA), denounced Romney, which elicited his declaration that "[his] dog likes fresh air." Seemingly, Romney still does not see Seamus's transportation as being improper. In April 2012, during an
ABC News interview
, Diane Sawyer inquired about the Seamus incident and if Romney would ever do it again, to which Romney answered, "Certainly not with the attention it's received." Actually, in Massachusetts (Romney's gubernatorial state) it is illegal to transport your pet in an unsafe manner — including putting them in the back of a pickup truck. Doing so is considered animal cruelty according to The 187th General Court of the Commonwealth of Massachusetts
CHAPTER 272 Section 77 Cruelty to Animals
, which states:
"whoever … carries [an animal] or causes it to be carried in or upon a vehicle, or otherwise, in an unnecessarily cruel or inhuman manner or in a way and manner which might endanger the animal carried thereon, or knowingly and willfully authorizes or permits it to be subjected to unnecessary torture, suffering or cruelty of any kind shall be punished by imprisonment in the state prison for not more than 5 years or imprisonment in the house of correction for not more than 2 ½ years or by a fine of not more than $2,500, or by both such fine and imprisonment."
Seamus ultimately was
sent to California
to live with Romney's sister, Jane Romney Robinson, after "he kept ending up at the pound. They were worried about him getting hit crossing the street. We had more space, so he could roam more freely." Although we don't know to what age Seamus lived, Robinson reportedly said that he survived until "a ripe old age." As an advocate of animal health and wellness, I'm offended by Mitt's improper transport of Seamus and said as much when I publicized my views through a video I did for
Teddy Hilton
, Perez Hilton's pet-centric website. See
Dr. Patrick Mahaney On Pet Car Safety And Mitt Romney
. I'm pleased to learn of others striving to keep this issue under the media spotlight.
Devo
, of "Whip It" fame, released a single titled "Don't Roof Rack Me, Bro! (Seamus Unleashed)" in 2012. Additionally, the movement of
Dogs Against Romney
helps to generate animal welfare awareness. Scott Crider, founder of Dogs Against Romney, is furthering public interest by promoting an itunes app,
The Crate Escape: Seamus Unleashed
through his group's
Facebook page
. Crider says that "in addition to [the app] being fun and hilarious, it raises awareness about a shocking incident of animal cruelty." Will Romney's reputation for treating his canine companion in a less than humane fashion affect how people will vote this election? Seemingly yes, as
Public Policy Polling (PPP)
determined that inhumane treatment of Seamus would cause 35 percent of voters to be less likely to vote for Romney. Regardless of political affiliation, the general consensus is that transporting a pet as Romney did is inhumane. PPP reports this finding among 74% of Democrats, 66% of Independents, and 63% of Republicans. Although times have changed since Romney's Seamus debacle, the underlying thread of inhumane treatment of animals still rings true. Will this influence your vote? Why or why not?
Dr. Patrick Mahaney
Thank you for reading this article. Your questions and comments are completely welcome (I'll respond). Please feel free to communicate with me through Twitter (@PatrickMahaney) and follow my adventures in veterinary medicine by liking Patrick Mahaney: Veterinarian Acupuncture Pain Management for Your Pets on Facebook. Copyright of this article (2012) is owned by Dr Patrick Mahaney, Veterinarian and Certified Veterinary Acupuncturist. Republishing any portion of this article must first be authorized by Dr Patrick Mahaney. Requests for republishing must be approved by Dr Patrick Mahaney and received in written format.