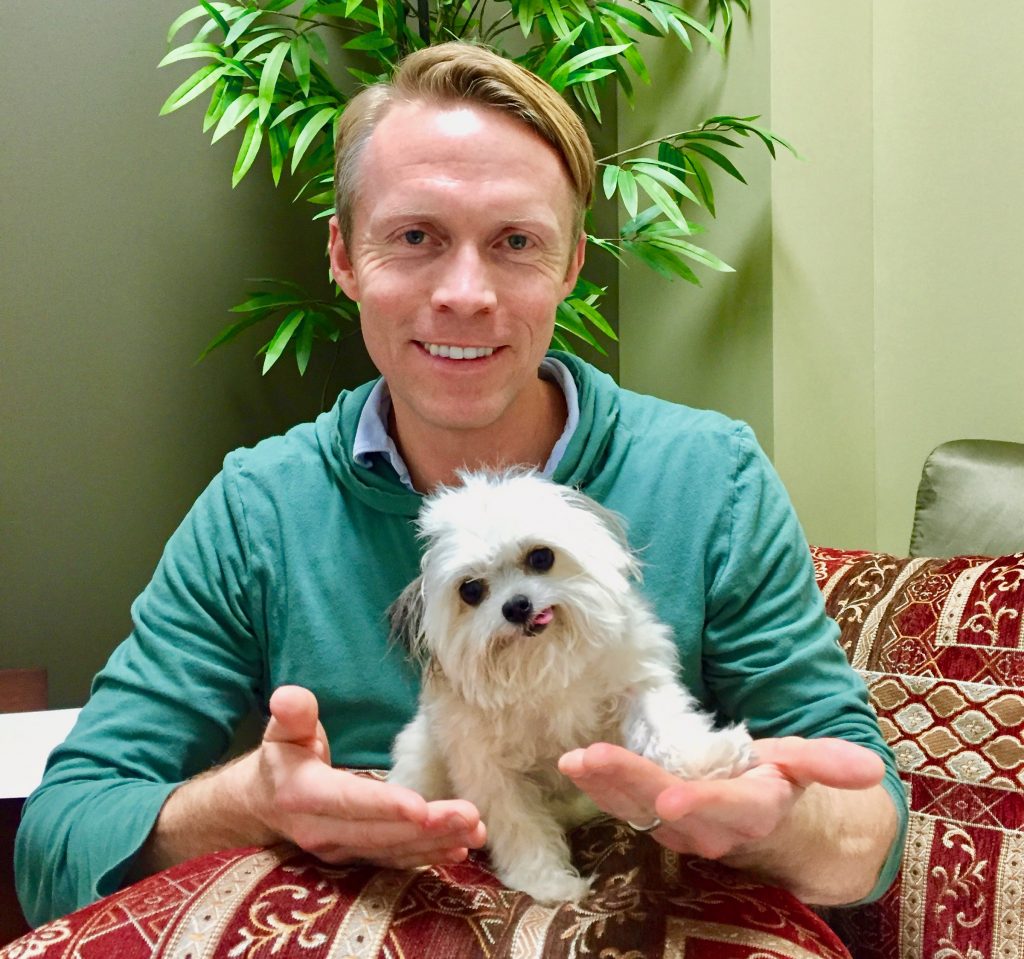 Dr. Patrick Mahaney high fives with his patient Norbert
One of my patients if up for contention in the prestigious American Humane Hero Dog Awards® (HDAs, as I call them). The HDAs are an "annual campaign that recognizes heroes on both ends of the leash. Eight lucky finalists and their human companions will be flown to Hollywood for a star-studded awards gala, which will be broadcast nationwide on Hallmark Channel later this fall. Of all the courageous canines, one dog will be awarded the grand prize American Hero Dog title. In order to cultivate the next generation of hero dogs, American Humane will donate $2,500 to each of the eight finalist's charity partners, and the American Hero Dog will win an additional $5,000 for their charity partner!"
Norbert is a rescued, petite Chihuahua mix with a big heart who spends his days visiting hospitals as a therapy dog and spreading good cheer with his high fives.
According to
Norbert's American Humane Association profile
Norbert
— Therapy
Charity Partner
:
Pet Partners
Sponsor
:
Chicken Soup for the Soul Pet Food
Location
: Los Angeles, California
"Norbert, my 3 ½ lb registered therapy dog, has a simple gift. He makes people smile. Not just a few people, but over 1.25 million people around the world. As I discovered when I adopted this tiny mixed breed dog 8 years ago, though small, he has a huge heart. Through his work in hospitals, nursing homes, on social media, television, and in publications, Norbert has become a global symbol of goodness of spirit, care, and compassion. Norbert embodies the idea that you don't have to be big to make a big difference in the world. His kind of hero brings out the best in others despite their hardships, challenges or differences. I know because he receives thousands of email and social media messages every week from all kinds of people.
Here are some other ways Norbert has made a difference in the world: by donating over 4,000 'Norbert Plush Toys' to children in need, advocating for the work of therapy dogs everywhere, donating hundreds of copies of his picture books to spread their positive messages, raising money for homeless animals, visiting schools and special needs programs, and by selflessly giving his time and energy. Norbert's current primary place of volunteer is at Children's Hospital Los Angeles.
The world has embraced and taken to heart this little dog's giving nature. Norbert makes it cool to be kind. His love and acceptance of all is exactly the kind of therapy that is needed in our world today.
High-Five Norbert!" Please help Norbert become the 2017 American Humane Hero Therapy Dog by voting for him once each day until June 28th. Click here to vote
www.herodogawards.org/dog/norbert/
Related Articles
Hooch the Mastiff Awarded Top Prize at the 2016 American Humane Association Hero Dog Awards
Which Canine Won the 2015 Hero Dog Awards?
Hero Dog Awards 2012 Recognizes Extraordinary Canines
Dr. Patrick Mahaney Thank you for reading this article. Your questions and comments are completely welcome.
Please feel free to communicate with me through Twitter (@PatrickMahaney) and follow my adventures in veterinary medicine by liking Patrick Mahaney: Veterinarian Acupuncture Pain Management for Your Pets on Facebook. Copyright of this article (2017) is owned by Dr Patrick Mahaney, Veterinarian and Certified Veterinary Acupuncturist. Republishing any portion of this article must first be authorized by Dr Patrick Mahaney. Requests for republishing must be approved by Dr Patrick Mahaney and received in written format.