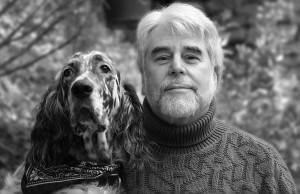 In further commemoration of the tenth anniversary of 9/11, I am featuring a remarkable story of a four legged hero who saved his owner's life. The intimate bond people share with their animal companions facilitates a pets' ability to fine tune their understanding of our shared environment and patterns of daily life. This comprehension permits pets to express themselves through verbal and non-verbal communication capable of being interpreted both by humans and other animals.
US News & World Report
recently published
Mysteries of Science: Amazing Animals
, which showcases the remarkable tale of my canine patient, Falstaff, in
Furry Friends to the Rescue
. A full page picture of my veterinary client, Richard Schulenberg and his English Setter, Falstaff, accompanies Schulenberg's recollection of how Falstaff helped save him during a heart attack. The strong bond between Falstaff and Schulenberg helped Falstaff sense that his owner was having a health crisis. If not for Falstaff's devoted nature and exclamatory vocalizations, Schulenberg may not have received lifesaving diagnostics and treatment. Read more about Falstaff's heroics and share in other stories of animal heroics via this
Amazon.com link
.
Related Links
How the Tragic Events of September Eleven Motivated My Decade of Personal Transition
Thank you for reading my article. To receive my next article via email, please press the "Don't Miss a Blog Post" button on the right upper corner of this page or follow
this link
. Please feel free to communicate with me through email (
patrick@patrickmahaney.com
) or Twitter (
@PatrickMahaney
). Follow my adventures in veterinary medicine by friending
Patrick Mahaney: Veterinarian Acupuncture Pain Management for Your Pets
on Facebook. Copyright of this article (2011) is owned by
Dr. Patrick Mahaney
, Veterinarian and Certified Veterinary Acupuncturist. Republishing any portion of this article must first be authorized by Dr. Patrick Mahaney. Requests for republishing must be approved by Dr. Patrick Mahaney and received in written format.