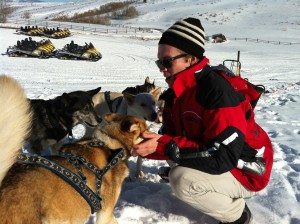 Have you ever heard the call of the wild? Well, I did on a recent trip to Park City, UT during Sundance 2011. I had the great opportunity to experience the instinctual prowess of sled dogs. Alaskan Malamutes, Siberian Huskies, and similar mixes made up the members of this close knit canine pack. Even though they are not biological siblings (i.e. litter mates), their frequent, almost bickering behavior lent the appearance otherwise. Each dog was individually and excitedly led to a master rope to which he or she was harnessed. As successive dogs were placed into their ready position, their level of anticipation increased, as did the volume of their vocalizations. Check out the dog's pre-sledding excitement in this video (can also access directly on my YouTube page by following
this link
): [youtube]http://www.youtube.com/watch?v=80CYc_kWn_o[/youtube] Our excellent guide, appropriately named Racer, took us on quite the adventure seemingly over the river and through the woods. We never quite made it to grandmother's house, but we had an invigorating ride from start to finish.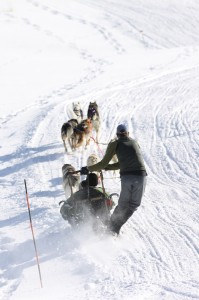 Once they got moving, many of the dogs started passing bowel movements without missing a step. One juvenile Husky had a minor case of the "cling ons", so he repeatedly scooted his butt on the snow to remove any offending fecal debris. Ingenious instinctual use of snow in replacement of toilet paper! Many times, I have seen dogs suffering from back or hip pain adopt a modified stance or take a few steps while they defecated. Never before had I witnessed a poop on the run as exhibited by these hard working canines. Racer reported his dogs to be in good health. They eat a high quality commercial dog and all live together in his house. No major illness or injuries were reported, as his dogs are appropriately conditioned to perform and did not appear to carry any extra body weight. All dogs were given adequate rest between pulling sessions and underwent regular veterinary exams.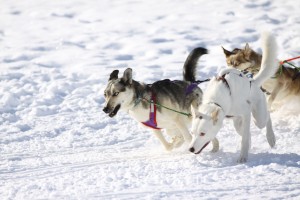 Our time with Racer and his dogs was unlike anything I have previously experienced. I highly recommend having him take you out for an adventurous day if you are in the Park City area. If you are interested in partaking in this unique outdoor experience, please contact Racer Gibson by visiting his website
www.teamgsleddogs.com
Thank you for reading my article. To receive my next article via email, please press the "Don't Miss a Blog Post" button on the right upper corner of this page or follow
this link
. Copyright of this article (2011) is owned by
Dr. Patrick Mahaney
, Veterinarian and Certified Veterinary Acupuncturist. Republishing any portion of this article must first be authorized by Dr. Patrick Mahaney. Requests for republishing must be approved by Dr. Patrick Mahaney and received in written format.