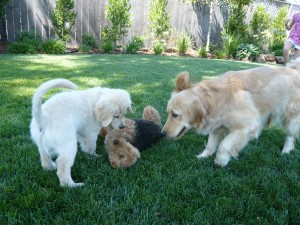 Although I don't care much for football, I am very psyched for the Puppy Bowl VII. As a pleasant distraction from the brutality of the game and obnoxious corporate advertisements, how about turning on Animal Planet to soak up the sight of cute puppies romping around a synthetic stadium?
This year's show includes the enhancements of chicken cheerleaders and a puppy camera showing the contestants point of view. I sure hope that the puppy cam doesn't inadvertently show what lies beneath the chicken cheerleaders' skirts.
Check out this You Tube video of last year's Puppy Bowl VI (or follow this link).
[youtube]http://www.youtube.com/watch?v=sHugFbtqh_E[/youtube]
Touchdown for dogs everywhere!
I hope that my breed, the Welsh Terrier, will be featured. We are fiesty, good runners, and usually end up on top.
Will you be watching the Puppy Bowl VII with me?
Licks and face rubs,
Cardiff
Puppy Bowl VII is being broadcast on Animal Planet on Sunday, February 6 starting at 3 PM both Eastern and Pacific time zones.