This article originally appeared on
Dr. Mahaney's Pet-Lebrity News
 column on Pet360.com as Save Our Shelter Red Carpet Report and Interview with DOG for DOG Founder Rocky Kanaka.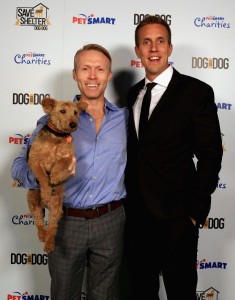 on November 10, 2015 in Beverly Hills, California.
I love living in Los Angeles, as doing so gives me access to many red carpet events in the realm of pet media. Recently, I was invited to the premiere of The CW Network's Save Our Shelter. The event also marked the launch of DOG for DOG foods, treats and other products at PetSmart.
Save Our Shelter is a television show that aims to improve the facilities and operating procedures of animal shelters. The program's star and DOG for DOG founder, Rocky Kanaka, was on-site at the premiere to personally introduce an episode of Save Our Shelter featuring The Amanda Foundation (which also served as host of the premiere) and graciously post for pictures with fans.
I know Kanaka through our respective involvements in the pet media world, but I wanted to get a sense of his background and inspiration in creating DOG for DOG and Save Our Shelter. Get my exclusive interview with him, below.
Q: Tell us about your life before you became involved in the realm of animal welfare?
A: My upbringing was very humble. We didn't have much, but we made do with what we had. In tough times, I was always amazed at how the people that did take the time to give my family support always seems to be people that had very little. This has always left an impression on me and I have always wanted to pay that forward and support those that give selflessly.
Q: What was the inspiration behind founding DOG for DOG?
A: I've always had a passion for pets and working in the pet space. I started with my company The Dog Bakery. Through local in store events, I was awakened to the massive problem of pet homelessness in our country and wanted to find a way to do more to give back. I started by donating proceeds from my store as well as hosting pet adoptions, but the impact was just not big enough. That's how DOG for DOG started, as a way for me to give back and provide great nutrition to dogs in shelters awaiting their forever home.  Every time someone buys DOG for DOG products, we donate an equal amount of food to rescues and shelters. It makes giving back part of your routine and benefits your local community.
Q: How did Save Our Shelter come to be series on The CW Network?
A: I created Save Our Shelter to raise awareness that shelters are doing amazing work but they need our help. If we all join forces, we can change the face of rescue. It is exciting to me that ending pet homelessness is achievable. But the only way this can be done is if we all work together. I need everyone to join me because together we make an army of supporters that are part of a movement to save pet lives.
Q: What have been the greatest challenges you've had to overcome in establishing, maintaining, and developing DOG for DOG and Save Our Shelter?
A: The biggest challenge I've had to overcome is the belief that one person's actions won't make a big enough difference. All of the time I get people telling me that one day they would like to do what I do. I am here to tell you that day is today! It is in the small everyday actions that big change occurs. Believe in yourself and your ability to effect change. I see it everyday from fans picking up a bag of DOG for DOG food so that food is donated to a shelter to volunteers working tirelessly to help get pets adopted to directors of rescues that have dedicated and sacrificed for decades. If we all stand together in this movement we can be a tidal wave of change.
Q: What is next for you and DOG for DOG and Save Our Shelter?  Will we see another season of the show?
A: Here is what is next for DOG for DOG. We are a fairly new company in the dog food world. It takes dog food companies decades before they get the opportunity to be carried by a national retailer. But in our case, doing the right thing has paid off. Because our mission and all of the fans that are passionate about supporting us, PetSmart is going to carry DOG for DOG nationwide. The impact will be substantial because now every truckload of DOGSFOOD that is driving down the road to go to PetSmart another truck will be right behind it delivering food to a shelter.
PetSmart Charities is the largest funder of animal welfare in North America. We are now working with them by getting them the needed food donations. Then they are able to reach out to their thousands of shelters that need this food on a daily basis.
The next season of the show will really depend on people getting involved. We need everyone going to PetSmart to pick up DOG for DOG so we can continue to feed shelters, we need everyone watching and giving feedback, and we need to hear from all of the passionate people out there on what groups need help. This is a team effort.
Q: How can the Pet360 audience connect to you via social media?
A: The reason I have always been a part of the Pet360 family is because this community and its fans are very passionate and educated about pets. I feel like I am at home when I am talking to the Pet360 audience. And of course, the support and encouragement is what keeps my team and I going. Follow me on YouTube where I put out weekly videos and check out DOG for DOG!
_
Thank you Rocky for all that you do to help animals and generally make society a better place. I wish you much success in your endeavors with Save Our Shelter and DOG for DOG.
Have you seen any episodes of Save Our Shelter or purchased DOG for DOG products? Feel free to share your perspective in the comments section
Thank you for reading this article.  Your constructive comments are welcome (although I may not respond).
Please follow my adventures in veterinary medicine and life via:
Copyright of this article (2015) is owned by Dr Patrick Mahaney, Veterinarian and Certified Veterinary Acupuncturist. Republishing any portion of this article must first be authorized by Dr Patrick Mahaney. Requests for republishing must be approved by Dr Patrick Mahaney and received in written format.