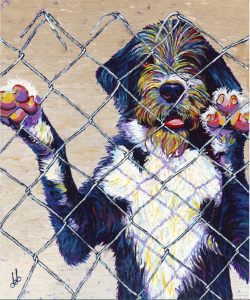 How are you celebrating National Dog Week (NDW, 9/19-25)? Besides my daily work as a holistic veterinarian, I am promoting the greater cause of animal welfare by being part of the NDW media movement.
Author and artist, Lisa Begin Kruysman, has resurrected the NDW to encourage pet population control through spay/neuter (S/N) and novel models for housing shelter dogs.
"Neuter and spay so every dog can have its day" is this year's NDW observance. The goal is to reduce the numbers of homeless pets, as a smaller population of dogs and cats in need of a forever home can be better managed by the already overburdened rescue system.
New methods of housing shelter dogs to make them more adoptable is another key concern for NDW. By partnering with Shelter Revolution, NDW aims to promote the well-planned removal the cages so that shelter dogs can better acclimate to the environment they will share with humans and other animals. Shelters would now become referred to as Adoption Centers.
Here is the official press release for NDW. I hope you will join us to promote the cause.
NATIONAL DOG WEEK SET TO WELCOME A NEW GENERATION
The venerable National Dog Week Movement picks up momentum as it is introduced to a new generation of dog-loving Americans. With a vibrant new poster created by Oregon-based artist, Donald E. Brown, it even has a new look. Also joining in its rejuvenation is Hollywood veterinarian to the stars, Dr. Patrick Mahaney, New Jersey-based dog-blogger/author, Lisa Begin-Kruysman and the lively and captivating Laura Nativo, star of CBS' Greatest American Dog reality TV show and host of Game Show Network's Dog Park Superstars airing on September 25th, 2011. (GSN 8 PM).
 
National Dog Week was established in 1928 by dog-enthusiast William Lewis Judy to encourage responsible pet ownership for a growing population of dog "owners" and to honor our dogs for all the good they do.
 
With this dedicated group of energetic supporters and promoters, important issues such as Spay and Neuter Initiatives, Canine Health and Shelter Reformation will be highlighted. An exciting Canines on Canvas Contest is currently in place with a lucky entrant winning a portrait of their dog compliments of NDW artist, Donald E. Brown. Please go to the NDW Blog to see how you can participate and to meet Sergio, the dog that inspired the NDW poster.
 
Thank you,
Lisa Begin-Kruysman
Enthusiasts of pet literature should also check out Kruysman's short fictional piece Something' Lost and Must Be Found. Kruysman's book, Every Dog Has Its Week: How Seven Days in September Came to Celebrate Dogs and the Humans Who Love Them will be published in 2012 and chronicles NDW from it's origins with Captain William Lewis Judy.
Thank you for reading my article. To receive my next article via email, please press the "Don't Miss a Blog Post" button on the right upper corner of this page or follow this link.
Please feel free to communicate with me through email (patrick@patrickmahaney.com) or Twitter (@PatrickMahaney).
Follow my adventures in veterinary medicine by friending Patrick Mahaney: Veterinarian Acupuncture Pain Management for Your Pets on Facebook.
Copyright of this article (2011) is owned by Dr. Patrick Mahaney, Veterinarian and Certified Veterinary Acupuncturist. Republishing any portion of this article must first be authorized by Dr. Patrick Mahaney. Requests for republishing must be approved by Dr. Patrick Mahaney and received in written format.