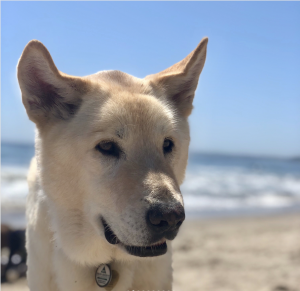 Hudson on his beloved beach One of the most-challenging parts of my job as a veterinarian is guiding my clients through the process of bidding farewell to a beloved canine or feline companion. Recently, I had to help a sweet, senior mixed-breed named Hudson cross the rainbow bridge. Hudson was my patient for the past seven years and ultimately lived to the ripe age of 15, so I knew him for what was essentially his entire seniorhood (generally, I consider my patients seniors at seven years of age). I saw Hudson in his home for a combination of treatments (laser, acupuncture, electrostimulation, etc.) to relieve discomfort from his arthritis and other mobility-compromising conditions, and it was always rewarding to see him feeling better post-treatment. During my years as Hudson's veterinarian, he had a great quality of life with his human family members. Over Hudson's final year his body started to fail him despite my efforts and we ultimately needed to make a quality of life choice for him. I'll turn the telling of Hudson's tale over to his human family members, Rich and Suzy, for whom Hudson was their first baby.
RichEisen
We knew this day would come and, after 15 loving, wonderful years of sweetness and warmth, we lost our Hudson. He got us ready to parent, gently welcomed home all 3 of our children from the delivery room and provided them nothing but love, affection and constant protection. And not just our kids. He offered endless joy for any child who he came across, whether it was walking the street, on a hike or in Los Angeles Children's Hospital where my wife took him to volunteer for many years. He had an incredible light and we were fortunate to have him for a decade and a half but, today, we ran out of time. We are heartbroken. But are buoyed by the memories and hope you might be willing to honor his by donating to your local animal rescue or, better yet, rescuing a dog of your own. We thank the lord we rescued Hudson a decade and a half ago. Rest his sweet, beautiful soul.
SuzyShuster
Yesterday afternoon, after a trip to his favorite place, the beach, in the shadow of his favorite jacaranda tree, we said goodbye to our precious Hudson the Dog. I found him on petfinder.com 15 years ago, but there was no search engine for love of my life. We took a chance rescuing and were rewarded with Love, devotion, protection, loyalty, and empathy that had no bounds. He served weekly as a children's hospital therapy dog for 8 years. We placed each of our children at his feet when we brought them home, and with a sniff, they were his to guard and he did so with such purpose. He wasn't a lab. He wasn't quick to want your friendship, but when you got his, you knew you were special. He passed away surrounded by love and I'm so grateful to have been there next to him holding his paw and holding his head, telling him it was ok to go, and he can rest. He is with the Stars now, and as Taylor said, every night we will remind the stars to take Hudson to the beach. Please, please, consider rescuing today or make a donation to your local rescue. There are so many hearts out there needing your help.
Ace of Hearts rescue, from which Hudson was adopted as a youngster, has set up a donation page for you or your fellow animal lovers to make a financial contribution to help other pets find their forever homes. See
In the Name of Hudson Donate Now Save A Life
Although Hudson is no longer with us, he will be in our hearts in perpetuity. Have you lost a cat, dog, or other furry or feathered companion who played a big part in you and your family's lives? Feel free to share your perspective in the Comments section.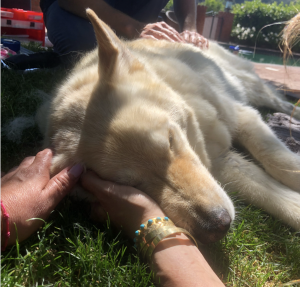 Rest in peace sweet Hudson the Dog
Dr. Patrick Mahaney
Please leave your constructive perspective in the below Comments section and communicate with me and follow my adventures in veterinary medicine and life via Instagram (
@PatrickMahaney
), Twitter (
@PatrickMahaney
), and Facebook (
Patrick Mahaney: Veterinarian Acupuncture Pain Management for Your Pets
).
Copyright of this article (2018) is owned by Dr. Patrick Mahaney, Veterinarian, Certified Veterinary Acupuncturist and Certified Veterinary Journalist. Republishing any portion of this article must first be authorized by Dr. Patrick Mahaney. Requests for republishing must be approved by Dr. Patrick Mahaney and received in written format.