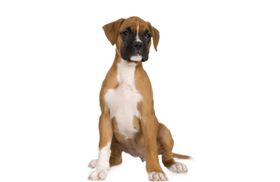 This article originally appeared on
Dr. Mahaney's Pet-Lebrity News
column on
Pet360.com
as:
Hot Celebrity Dog Breed: The Boxer.
Why a particular breed is most popular among celebrities or common people doesn't necessarily have a specific answer. Yet, society and media are always highly focused on trends (fashion, diet, baby names, etc.). Therefore, it also seems logical that trends also exist in pet breed ownership. If you haven't heard, celebrity couples Khloe Kardashian and Lamar Odom and Jennifer Lopez and Casper Smart are now the proud parents of Boxer puppies. Lopez and Smart were the first to go public with the announcement of their lovable pooch back in Jan 2013, when
@JLo
tweeted this statement and photo:
@BEAUcasperSMART: Introducing the new addition to the family, "BEAR" pic.twitter.com/KcVm3C33" So Happy! LilBabyBear. Could get confusing Lol!
Kardashian and Odom let the world in on their new pooch when Kardashian was seen out and about in Beverly Hills toting their very cute Boxer puppy, Bernard Hopkins (who wore a royal blue chest harness and leash restraining device...very responsible choice). The Boxer trend continued in March 2013, when Smart (@BEAUcasperSMART) posted two tweets about their second canine addition to their family, another Boxer puppy named Roxy:
Update.. Lil bear is doin GREAT!!! He was 9lbs when we got him, now he's 22lbs in a short 7 weeks.. But @JLo & I have a surprise for y'all!!!
and
Meet Roxy.... Newest member to the family.... @JLo 's baby, & bears new boo!!!! #Surprise pic.twitter.com/gkHf3gNCwo
As both couples are often overexposed in the media, any canine or feline companion brought into a celebrity family is walked or carried into the glare of public scrutiny. In addition, the pet is often highly photographed and discussed. As a veterinarian, I'm always striving to educate my clients and writing my audience to choose a dog having genetics that lead to healthier conformation. Typically, dogs not having been born with genetic abnormalities or developing them early in life tend to lead healthier day-to-day existences than those that are not so genetically or developmentally fortunate. When I hear of two prominent celebrity couples acquiring (purchased from a breeder and not adopted from a rescue) within a short time period, I become curious about what likely attracted them to that particular breed. Lamar reportedly gave Bernard to Khloe as a surprise gift, which is never my recommendation. Pet ownership is a process that needs to be well-thought-out and should not be done on an impulsive basis. If a couple or family is going to acquire a pet, then all involved parties must be aware of the caretaking and financial responsibilities associated with a particular breed (or mixed breed) of dog or cat. After all, when Kardashian's sister Kim received the gift of a Teacup Persian cat named Mercy from her boyfriend, Kanye West, things didn't go so well. Additionally, as more people will now be aware of the particular breed, it's important to inform potential Boxer owners of the myriad of health problems faced by this lovable canine companion. In veterinary circles, the Boxer has the unfortunate nickname of "tumor factor". The breed has the reputation of developing a wide variety of cancers at nearly any life stage which affect nearly all body systems, including Hemangiosarcoma, Lymphoma, Mast Cell Tumor, Osteosarcoma, and more. Here are examples of other diseases common to the
Boxer
(via PetMD):
Canine Hip Dysplasia
(CHD)- a congenital and developmental malformation of the hip that leads to arthritic pain and decreased mobility either early or later in life.
Cardiomyopathy
- a chronic deterioration of the strength of the cardiac muscle fibers that leads to heart enlargement and failure.
Hypothyroidism
- an immune mediated disease where the thyroid glands do not produce adequate thyroid hormone to sustain normal metabolism and a variety of other body functions.
Degenerative Myelopathy
- a chronic degeneration of nerve tissue causing muscle atrophy, ataxia (instability while standing and walking), and ultimately severe immobility primarily affecting the hind limbs.
Gastric Dilatation Volvulus
(GDV)- AKA Bloat, an emergency condition where the stomach twists (volvulus) and distends with air beyond its normal limit (dilatation). I recently discussed this condition in my Pet-Lebrity News article:
NBC's The New Normal Teaches Viewers One Way to Handle Bloat
I wish the Boxers belonging to Lopez-Smart and Kardashian-Odom many years of health and happiness. Should either couple ever need a house call veterinarian, I'd love to lend my holistic perspective to any health concerns affecting their Boxer. For more information about Boxers join our "
About Boxers are the Best
" group in the Pet360 community.
Thank you for reading this article. Your questions and comments are completely welcome (I'll respond).
Please feel free to communicate with me through Twitter (@PatrickMahaney) and follow my adventures in veterinary medicine by liking Patrick Mahaney: Veterinarian Acupuncture Pain Management for Your Pets on Facebook.
Copyright of this article (2013) is owned by Dr Patrick Mahaney, Veterinarian and Certified Veterinary Acupuncturist. Republishing any portion of this article must first be authorized by Dr Patrick Mahaney. Requests for republishing must be approved by Dr Patrick Mahaney and received in written format.