Dr. Patrick Mahaney, Preston Cassanova, and Laura Nativo
It was an honor to again be able to attend the American Humane Association Hero Dog Awards (HDAs, as I prefer to call them).  My client, friend, and Certified Professional Dog Trainer (CPDT-KA)Laura Nativo was one of the event's judges and invited me as her plus one, so I eagerly accepted the opportunity.
The Beverly Hilton provided a glamorous facility for the 2016 HDAs and the event was hosted by animal advocate Beth Stern and actor James Denton of Desperate Housewives fame.  The audience was treated to the musical stylings of actress and American Idol finalist Katharine McPhee.  I loved seeing McPhee show her canine-loving side by embracing Happy the Dog, the Hallmark Channel official spokes dog, on the red carpet.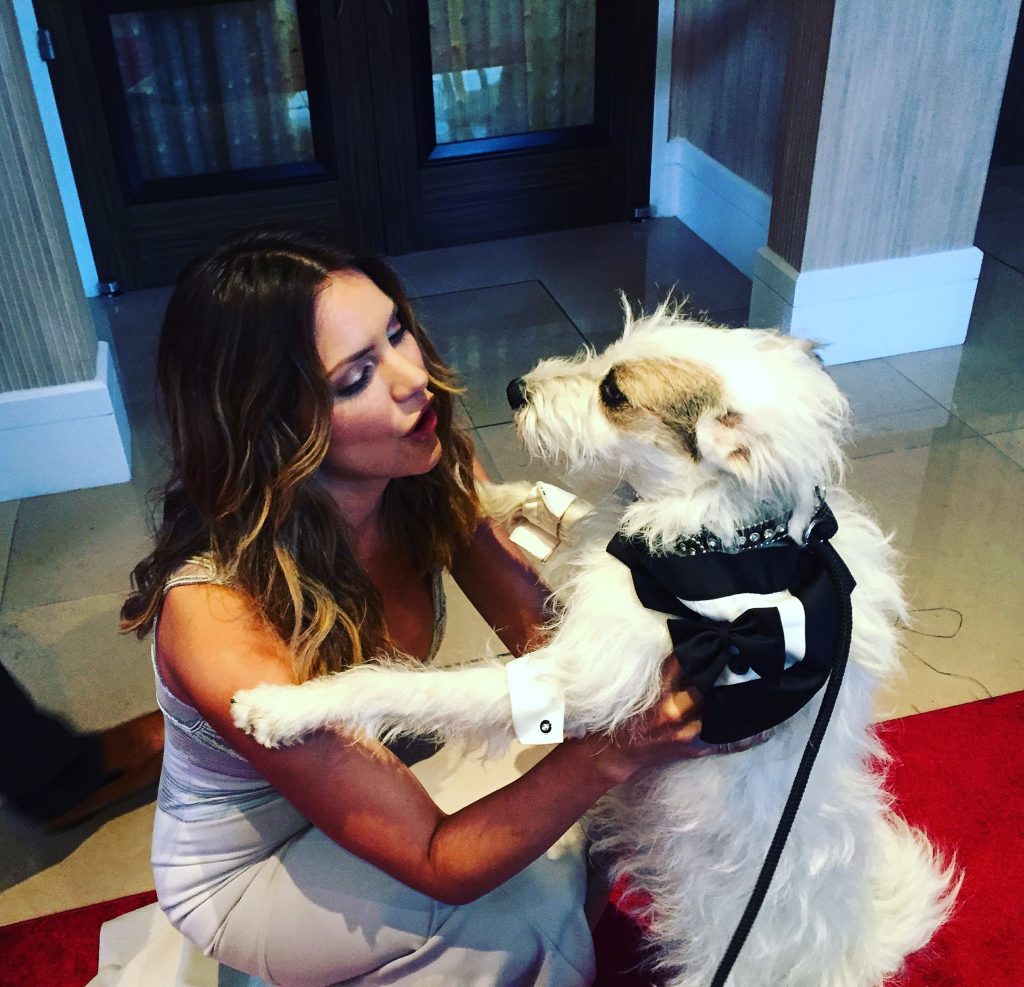 Katharine McPhee and Happy the Dog
Although I work in the realm of animal care as a veterinarian I spend so much time addressing my patients' health needs that I'm often not exposed to the amazing stories of dogs and their human companions helping to make a difference in society.   That's where attending the HDAs opens my eyes to the good works done by others who have devoted their lives to benefitting pets and people.
The contending canines are grouped in eight categories, including Law Enforcement Dogs, Arson Dogs, Service Dogs, Therapy Dogs, Military Dogs, Search and Rescue Dogs, Guide and Hearing Dogs, and Emerging Hero Dogs (the category for "ordinary" dogs doing extraordinary deeds).  Each charity partner affiliated with the finalist receives a donation of $2,500 and the American Hero Dog's charity receives an additional $5,000 from the American Humane Association.
This year's award went to Hooch the French Mastiff from Marley's Mutts Dog Rescue.  The Mastiff is a breed that commonly has its ears cropped for cosmetic purposes, which is not something I advocate to my clients or any person interested in acquiring the breed (or Mastiff mixed-breeds).  Reportedly, Hooch's ears are badly cropped.  Additionally, he has a broken tail and no tongue, which are not results of bad breeding.  Here's more about Hooch.
Zach Skow, of Marley's Mutts Dog Rescue, was alerted about him by a shelter in Bakersfield, and was told that the dog wouldn't eat or drink, and would instead thrash his food and water bowls around like a maniac. By the time he was pulled to freedom, he was 35 pounds underweight – starving, dehydrated and severely malnourished. Never thinking to check for a missing tongue, they thought he might have a broken or dislocated jaw that was causing his behavior. When taken to the vet, he was sedated to ready him for x-rays, and the gruesome discovery was made… Hooch's tongue had been savagely removed at its base, likely in an attempt to prime him for the role of a bait dog.  After using a feeding tube (Hooch kept yanking it out) it was discovered that Hooch could be hand-fed!  He tilts his head back while Zach has a handful of food and places it in the back of Hooch's throat and they let gravity do the rest. Hooch stands for overcoming adversity, bravery and living in the moment. He spends many hours with Marley's Mutts Miracle Mutts division, as a therapy dog.  He works with autistic, abused and special needs children.  Hooch is known for showing patience and kindness and is proof that anything can be overcome. He is our hero and the best mascot for bravery around.
I know Zach and the devotion he has to helping the welfare of pets in need through Marley's Mutts Dog Rescue.  In 2014, Zach and I teamed for a media project called Animal House, which is like Extreme Makeover: Home Edition but for animal rescues.  Along with other experts in the animal realm, Zach and I journeyed to Othello, WA to work with community members and help create a new animal facility for Adams County Pet Rescue.  You can watch me diagnose a dog's lameness (x-rays showed osteoarthritis) and consult with Zach create a treatment plan so the could lead a more comfortable life in Animal House Full Episode #1.
It was a pleasure to meet Mango, a mobility-compromised dog who relies on a set of hind-limb supportive wheels who was also up for contention for the 2016 HDAs. Mango was featured in my patient Norbert's book Norbert: What Can Little Me Do? and helps bring happiness to people suffering from health challenges through her service dog work.
I was saddened to learn that last year's winner and puppy mill survivor, Harley ("A little dog with a big dream"), had passed away.  His message of overcoming adversity and efforts to bring awareness of  the atrocities occurring every day in puppy mills will live in our hearts and minds forever.
Catch up on all the action from the 2016 American Humane Association Hero Dog Awards by tuning into the Hallmark Channel on Friday, 10/28/16 8pm ET (7pm CT). I'm setting my DVR and hope you'll be watching too.
Do you have a hero dog (or companion of another species) of your own having a remarkable story?  Feel free to share your perspective in the Comments section.
Related Articles
Hero Dog Awards 2012 Recognizes Extraordinary Canines
Which Canine Won the 2015 Hero Dog Awards?
Beth Stern Hosts 2014 Kitten Bowl on Hallmark Channel
Dr. Patrick Mahaney
Thank you for reading this article. Your questions and comments are completely welcome.
Please feel free to communicate with me through Twitter (@PatrickMahaney) and follow my adventures in veterinary medicine by liking Patrick Mahaney: Veterinarian Acupuncture Pain Management for Your Pets on Facebook.
Copyright of this article (2016) is owned by Dr Patrick Mahaney, Veterinarian and Certified Veterinary Acupuncturist. Republishing any portion of this article must first be authorized by Dr Patrick Mahaney. Requests for republishing must be approved by Dr Patrick Mahaney and received in written format.