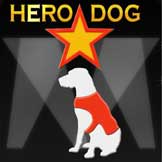 This article originally appeared on Dr. Mahaney's 
The Daily Vet
 column on petMD. October is National Pet Adoption Month, so we canine and feline aficionados are actively addressing the massive overpopulation of animals currently existing in our country. The American Humane Association (AHA) reports that "millions of pets across the country face euthanasia every year because there are not enough people who will adopt them and give them caring homes." This issue is much greater than a lack of adoptive homes for dogs and cats. The overpopulation of pets is an unfortunate consequence of large scale breeding practices (puppy mills, etc.), consumer demand for particular dog and cat breeds, and less than responsible pet ownership (backyard breeding, refusal to spay/neuter, impulse acquisition, etc.). On a worldwide basis, animal overpopulation must be reduced. Fortunately, organizations like the AHA exist to organize and fund multiple initiatives promoting the betterment and health of animals on an international basis. Founded in 1877, the AHA is America's first national humane organization. The AHA also recognizes extraordinary service dogs as part of their 
Hero Dog Awards
.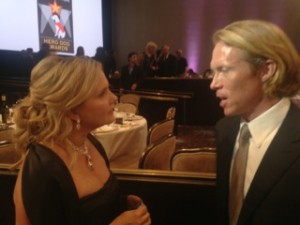 AHA President Robin Ganzert I was fortunate to be able to attend this year's Hero Dog Awards as a guest of
PetHub
. By fusing technology with one of the basic tenets of responsible pet ownership (proper identification through tagging), PetHub created a novel means for increasing the likelihood that your lost canine or feline family member will be returned safely to you. The dogs recognized for their heroic actions spanned a variety of duties, ages, breeds (and breed mixes), and four-limbed walks of life. 
Robin R. Ganzert
, President and CEO of the AHA, said that the eight finalists for 2012's Hero Dog Awards have "gone above and beyond the call of duty, saving lives on the battlefield, comforting the ill, the aged, and the afflicted, bringing hope to those who have lost it, and reminding us of the powerful, age-old bond between animals and people." Last year's winner, Roselle, was a guide dog who aided her visually impaired owner 
Michael Hingson
 down 78 floors in the World Trade Center during 9/11/01. 
Roselle has crossed over the rainbow bridge
, but Hingson attended the awards with Roselle's successor, Africa, and he continues to travel with Africa, who joins him on his public speeches to promote the human-animal bond. Here's a rundown of the 
2012 Hero Dog Awards Finalists
, including their "category" names and charity partners (in parentheses):
Military Dog: Gabe (United States War Dog Association)
Guide Dog: Tabitha (Leader Dogs for the Blind)
Therapy Dog: Stella (Angel on a Leash)
Law Enforcement/Arson Dog: Jynx (K9s4Cops)
Service Dog: Holly (International Association of Assistance Dog Partners)
Search and Rescue Dog: Soot (Sage Foundation for Dogs Who Serve)
Hearing Dog: Tatiana II (Dogs for the Deaf)
Emerging Heroes Dog: Daniel (Pine Street Foundation)
And the winner is?
SPOILER ALERT !
If you want to bear the suspense of waiting until the November 8th television broadcast of the Hero Dog Awards, then please skip past the bounded area.
---
Military Dog:
Gabe
Gabe is a yellow Labrador Retriever who began serving our country as a Military Working Dog in 2006. While deployed in Iraq, Gabe completed over 210 combat missions and notably achieved 26 detections of explosives and weapons. On breaks from his combat missions, Gabe provides emotional support to wounded U.S. soldiers in hospitals and teaches the importance of education to children in elementary schools. Gabe was the runner up in the "Military Dog" category in 2011. He retired from active duty in 2009, but he continues to represent the U.S. Military Police.  
---
  I find it remarkable that some of the finalists were removed from less than desirable circumstances, adopted into loving homes, and then transitioned into roles that benefit society. The tale of one particular pooch, 
Daniel
, was exceptionally notable. Daniel is a Beagle mix who survived gas chamber euthanasia in an Alabama animal shelter. Eighteen other dogs put into the gas chamber with Daniel died, while he emerged with a wagging tail. How Daniel survived is unknown, but his remarkable ability to overcome death prompted the animal control officer who had previously attempted to end Daniel's life to offer him a second chance. With the help of Pilots and Paws, and Eleventh Hour Rescue, Daniel found a permanent home in New Jersey with the Dwyer family and currently represents shelters as an adoption advocate, helping to raise awareness of efforts to ban the use of gas chambers for the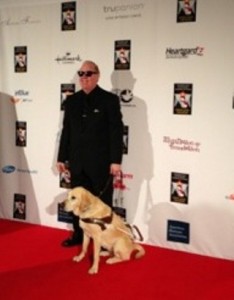 Michael Hingson with Africa euthanization of shelter pets (
"Daniel's Law" in Pennsylvania
). Many celebrities with a passion for animals lent their images by appearing at the Hero Dog Awards, including Kristin Chenoweth (the evening's host), Jewel, Naomi Judd, Pauley Perrette, Denise Richards, Candy Spelling, Victoria Stillwell, Lisa Vanderpump and her pooch Giggy, Michael Vartan, and Betty White. Make sure to tune into the Hallmark Channel's coverage of the 2012 Hero Dog Awards on November 8, 2012 at 8:00 p.m. ET/PT (7 p.m. CT). And let's continue to recognize the positive contributions Hero Dogs and our less well known but no less heroic companion pooches make on behalf on mankind. One of the best means of doing so is to be a responsible pet owner and advocate for causes that promote animal welfare, such as those undertaken by the American Humane Association.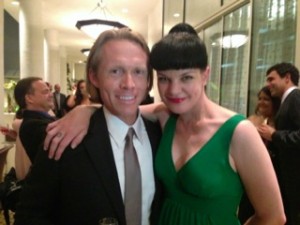 Paluey Perrette and Dr. Mahaney                    
Thank you for reading this article.  Your questions and comments are completely welcome (I'll respond). Please feel free to communicate with me through Twitter (@PatrickMahaney) and follow my adventures in veterinary medicine by liking Patrick Mahaney: Veterinarian Acupuncture Pain Management for Your Pets on Facebook. Copyright of this article (2012) is owned by Dr Patrick Mahaney, Veterinarian and Certified Veterinary Acupuncturist. Republishing any portion of this article must first be authorized by Dr Patrick Mahaney. Requests for republishing must be approved by Dr Patrick Mahaney and received in written format.