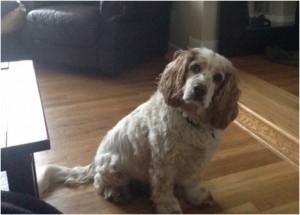 Carol Bryant of FidoseOfReality.com recently sought my veterinary perspective on a particularly nasty type of cancer called Mast Cell Tumor. It's an insidious disease that can manifest as a solitary or multiple tumors in the skin or can also affect internal organs.
The concept of using antihistamines to help combat the side effects of histamine release from Mast Cell Tumors is a common strategy we veterinarians prescribe. Cardiff's oncologist, Dr. Avenelle Turner of the Veterinary Cancer Group, also weighs in on the use of antihistamines to help Mast Cell Tumor patients. Check out Bryant's informative article here: Help for Dogs with a Mast Cell Tumor
Dr. Patrick Mahaney
Thank you for reading this article.  Your constructive comments are welcome (although I may not respond).
Please follow my adventures in veterinary medicine and life via:
Instagram @PatrickMahaney
Facebook Patrick Mahaney, Veterinarian: Acupuncture Pain Management for Your Pets
Twitter @PatrickMahaney
Copyright of this article (2016) is owned by Dr Patrick Mahaney, Veterinarian and Certified Veterinary Acupuncturist. Republishing any portion of this article must first be authorized by Dr Patrick Mahaney. Requests for republishing must be approved by Dr Patrick Mahaney and received in written format.