This article originally appeared on Dr. Mahaney's Pet-Lebrity News  column on Pet360.com as Hanging with Celebrity Dogs at the DogVacay Winter Holiday Party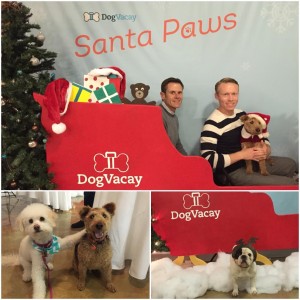 Living in Los Angeles puts me in close proximity to many celebrities, some of who are even my clients. Additionally, there are celebrity pets that walk the same sidewalks and visit the same pet stores any "normal" person may peruse.
Recently, I was invited to attend Santa Paws, DogVacay's winter holiday party, where Cardiff, Phil (Cardiff's other dad) and I hung out with two dogs who are well known in the media: Manny the Frenchie and Maggie the Superhero.
Before I get into the details about Manny and Maggie, I first want to introduce the unique and helpful service offered by DogVacay. If you're not already in the know, DogVacay uses Apple or Android app technology to connect pet others in need of temporary sitting services with thoroughly-vetted, local sitters. In addition to having the peace of mind that your companion canine will be well cared for while you're away, according to the site, "every reservation includes 24/7 customer support, daily photo updates, and premium pet insurance which covers up to $25,000 in vet bills per pet."
In my years of veterinary practice, there have been many occasions when I've treated patients being cared for by pet sitters. When a health problem occurs that necessitates evaluation and medical or surgical treatment, the issue of payment can become contentious between the owner, sitter and hospital unless clearly defined rules and resources for payment are established prior to the owner's departure. Knowing that Cardiff or my patients' medical treatment will be covered under DogVacay's insurance policy gives me a great sense of comfort about leaving them under the care of one of DogVacay's sitters.
Now, let's get to the fun stuff! When I received the invite to attend Santa Paws I was psyched to finally be able to meet Manny. I first got to know Manny in the realm of social media through his Instagram feed. He's amassed an incredible 918,000 followers, around 917,200 more than my Instagram.
Here's what his website says:
"My parents tell me I was named after the famous Filipino boxer, Manny Pacquiao. Happy they named me after him, because my muscles are very similar. They were about to name me Derrick. Because of the Chicago Bulls Derrick Rose is as quick as me. My parents still tell me I jump as high as him. Well, I love meeting new friends. My birthday is February 7th and I love bacon. I like to sleep in sinks. I have a little brother Frank. He's annoying. I also have an awesome older sister Leila, and my cool cousin Cooper. I don't like long walks on the beach, but I like to walk to get some bacon. Sometimes I like to go on my Facebook account and read all your nice comments. Then I eat more bacon. One time I slept in the sink and I was dreaming I owned a bacon factory. I continue to try and sleep as much as I can so I can keep dreaming of bacon. Back to the sink."
The reference to the Chicago Bulls exists because Manny and his human and canine family members reside in the Windy City. I suspect they enjoyed their time in Southern California for the party as a pleasant break from the harsh Midwest winter.
My other celebrity canine profile is of Maggie the Superhero. Maggie, her mom (Nicole Ellis) and I know each other through our shared friend and dog trainer Laura Nativo and have hung out at BlogPaws. I've also advised on the management of Maggie's orthopedic issues, which have improved now that she takes a daily dose of ActivPhy joint support supplement.
Maggie's website includes information about how she came into Nicole's life:
"I met Maggie 5 years ago at the North Central Animal Shelter in Los Angeles. She rescued me and furever changed my life that day. Maggie is a bichon, mini poodle, golden retriever, border collie mix with a dash of shitzu. I may be a bit biased but I think she's pretty great. Maggie poses for the camera, tells jokes, does cartwheels and updates her Facebook page.
"Maggie is my superhero. She is also a therapy dog, working production dog, my best friend, heart and sole of Working Like A Dog – Coffee Table Book a multimedia project to educate people on dogs with jobs, and an inspiration for many, which is pretty amazing for a pup that was shaking and scared in the shelter. Maggie was trained with positive reinforcement methods, meaning it's always fun. Maggie would rather work on a movie set or put on a show than play with other dogs, which seems to fit my lifestyle very well."
Maggie has steadily climbed the proverbial ladder of canine celebrity talent in Hollywood and has even been featured on America's Got Talent. Her YouTube shows some of her commercial work and even has her fist-bumping with TODAY's Hoda Kotby (I'm envious).
Cardiff really enjoyed hanging out with Maggie and was very accepting recipient to her "hug him" command as they posed of photos.
Spending time with Manny and Maggie at the DogVacay party has really gotten us in the holiday spirit. We hope you have many fun and safe celebrations this season and check out DogVacay as a resource for pet care should your plans take you out of town.
Do you ever use a sitter or a resource like DogVacay for your pet's care? Feel free to share your perspective in the comments section.
Thank you for reading this article.  Your constructive comments are welcome (although I may not respond).
Please follow my adventures in veterinary medicine and life via:
Copyright of this article (2015) is owned by Dr Patrick Mahaney, Veterinarian and Certified Veterinary Acupuncturist. Republishing any portion of this article must first be authorized by Dr Patrick Mahaney. Requests for republishing must be approved by Dr Patrick Mahaney and received in written format.