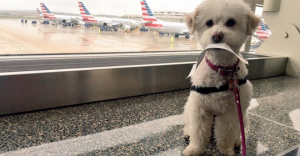 Dr. Patrick Mahaney's patient Maggie is quite the seasoned traveler (http://blog.maggieandnicole.com)
Do you travel on an airplane with your dog? Although man owners do so, airline travel is not appropriate for all dogs due to their health, behavior, or other factors.
I always advocate that dog owners plan well in advance when taking their canine companions on an airplane and not need to make spur-of-the-moment decisions that could alter a pet's normal patterns of eating, drinking, urinating and defecating, resting, receiving medications and supplements, etc. and lead to health problems.
Want to learn more about canine airline travel? Check out my further perspective on the topic in this article Flying With a Dog: Should You Take Your Dog on a Plane via Rover.com
Have you ever done any airline travel with your pooch? Feel free to share your perspective in the Comment section below.
Dr. Patrick Mahaney
Please leave your constructive perspective in the below Comments section and communicate with me and follow my adventures in veterinary medicine and life via Instagram (@PatrickMahaney), Twitter (@PatrickMahaney), and Facebook (Patrick Mahaney: Veterinarian Acupuncture Pain Management for Your Pets).
Copyright of this article (2019) is owned by Dr. Patrick Mahaney, Veterinarian, Certified Veterinary Acupuncturist and Certified Veterinary Journalist.  Republishing any portion of this article must first be authorized by Dr. Patrick Mahaney. Requests for republishing must be approved by Dr. Patrick Mahaney and received in written format.