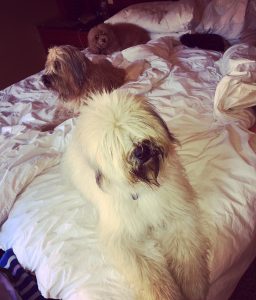 Harper (front) and Shaggy (left) are Wheaten Terriers and examples of medium-sized dog breeds
When pursuing ownership of a canine companion, are you a fan of small, medium, large, or giant sizes? Personally, I like a dog that is small enough to be scooped up and cuddled removed from a potentially injurious circumstance, or be put into an airline-appropriate carrier for travel. Such a dog would likely be more likely to be considered small and less than 25 pounds, as medium dogs tend to be bigger and take up more space.
Every potential pet owner has their own preferences as to what size of companion canine best fits the bill. Additionally, although I generally advocate pursuing ownership of mixed-breed dogs from shelters or rescues, when a specific breed of dog is desired potential owners can go the route of doing their research and finding a reputable breeder employing optimal breeding practices to hopefully create the heartiest possible litters.
I recently had the opportunity to contribute to an article about selecting the best breeds fitting into the medium-sized dog category for Woman's Day author Colleen Stinchcombe. Learn more by clicking on 17 Popular Medium Sized Dogs and please share it with your fellow pet aficionados.
If you have something, in particular, to say about medium-sized dogs feel free to contribute your perspective in the Comments section.
Dr. Patrick Mahaney
Please leave your constructive perspective in the below Comments section and communicate with me and follow my adventures in veterinary medicine and life via Instagram (@PatrickMahaney), Twitter (@PatrickMahaney), and Facebook (Patrick Mahaney: Veterinarian Acupuncture Pain Management for Your Pets).
Copyright of this article (2019) is owned by Dr. Patrick Mahaney, Veterinarian, Certified Veterinary Acupuncturist and Certified Veterinary Journalist.  Republishing any portion of this article must first be authorized by Dr. Patrick Mahaney. Requests for republishing must be approved by Dr. Patrick Mahaney and received in written format.
Related Articles
Jane Lynch and Rich Eisen Reveal They Share the Same Veterinarian (Dr. Patrick Mahaney) on The Rich Eisen Show 
Dr. Patrick Mahaney Weighs in on Canine Cognitive Dysfunction for People.com