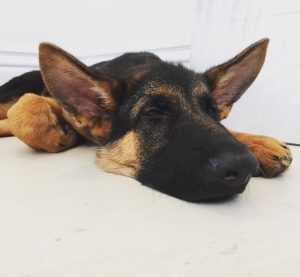 Although the German Shepherd Dog is a breed known for its guarding prowess this one seems to be snoozing on the job Some dog breeds are conventionally known as guard dogs due to their size, general appearance, or temperament. Yet, any dog of mixed or pure breeding could serve as a good guard dog for its household.
Not all dogs are meant to be protectors. Therefore, if you are a potential dog owner seeking a canine companion to help protect your home or property it's crucial to do your homework in becoming familiar with the physical and behavioral characteristics of the breed so that you'll be aware of what you are potentially getting into in terms of the years of caretaking and responsibilities that lay ahead. Additionally, if a particular breed is sought owners should work with a reputable breeder to get the healthiest dog possible.
Just selecting the right breed or mix of breeds does not guarantee a well-trained guard dog. Owners must establish a long-term relationship with a certified dog trainer to ensure that appropriate training practices are utilized to behaviorally mold a dog to serve its role as a protector without exhibiting harmful tendencies to other pets or human family members (and household workers).
I recently had the opportunity to contribute to an article about selecting dog breeds known for their guarding tendencies for
Woman's Day
author Colleen Stinchcombe. Learn more by clicking on
The 10 Best Guard Dogs to Keep Your Home Safe
and please share it with your fellow pet aficionados.
If you have something to share about guard dogs please feel free to contribute your perspective in the Comments section.
Dr. Patrick Mahaney
Please leave your constructive perspective in the below Comments section and communicate with me and follow my adventures in veterinary medicine and life via Instagram (
@PatrickMahaney
), Twitter (
@PatrickMahaney
), and Facebook (
Patrick Mahaney: Veterinarian Acupuncture Pain Management for Your Pets
). Copyright of this article (2019) is owned by Dr. Patrick Mahaney, Veterinarian, Certified Veterinary Acupuncturist and Certified Veterinary Journalist. Republishing any portion of this article must first be authorized by Dr. Patrick Mahaney. Requests for republishing must be approved by Dr. Patrick Mahaney and received in written format.