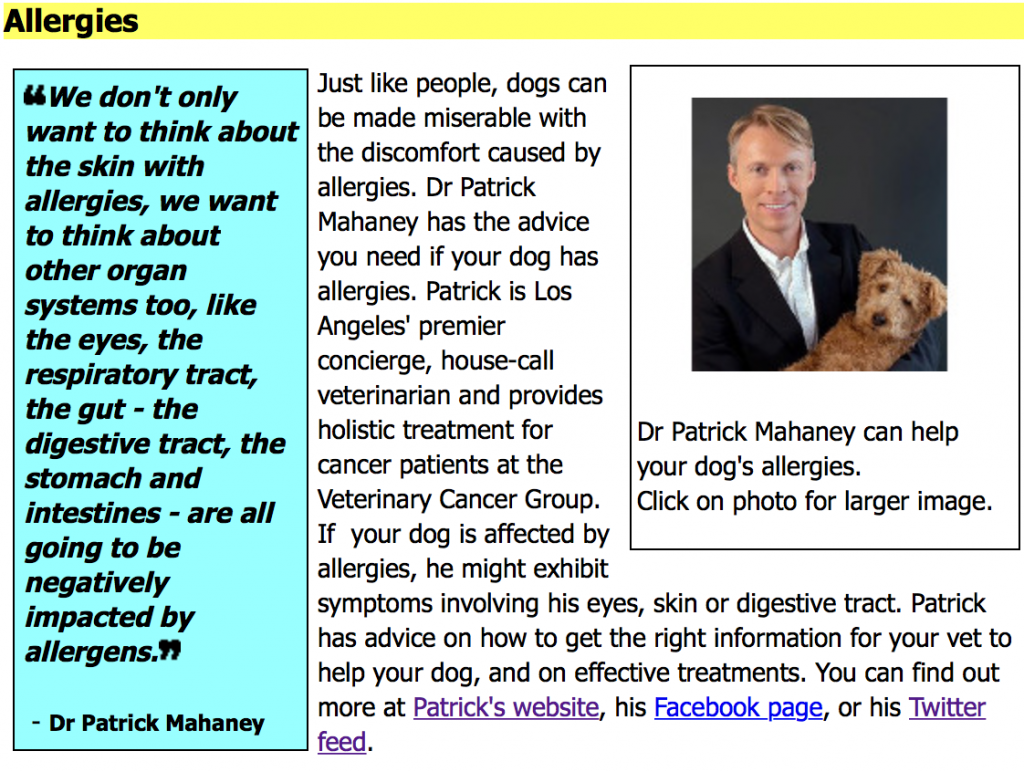 Does your pet suffer from allergies of the eyes, respiratory or digestive tract, skin, or other body system? Allergies are quite common and are great imitators for other ailments, so it's important that suspect pet allergies are brought to the attention of your veterinarian.
Living in southern California, I see allergies in my canine and feline patients on a year round basis. I'm not only talking environmental allergies, as pets (anywhere they live) can also be affected by biting insects (fleas, flies, etc.), food allergies, and more.
There are also many holistic strategies owners can take to reduce the potential their pets will suffer from allergies, including the regular administration of dietary supplements like omega fatty acids, providing a whole-food diet, and more.
Check out my veterinary input on Episode 170 of DogCastRadio.
Feel free to share this link with your fellow pet-owning friends, family, etc.
Dr. Patrick Mahaney
Thank you for reading this article.  Your questions and comments are completely welcome.
Please feel free to communicate with me through Twitter (@PatrickMahaney) and follow my adventures in veterinary medicine by liking Patrick Mahaney: Veterinarian Acupuncture Pain Management for Your Pets on Facebook.
Copyright of this article (2016) is owned by Dr Patrick Mahaney, Veterinarian and Certified Veterinary Acupuncturist. Republishing any portion of this article must first be authorized by Dr Patrick Mahaney. Requests for republishing must be approved by Dr Patrick Mahaney and received in written format.