Are you aware of the Dog Film Festival Los Angeles? I attend last year's festival and partook in two great events, the first being an afternoon tea party (hosted by Melissa Rivers) at VCA West Los Angeles Animal Hospital and the film festival at the Crest Theater in Westwood. Cardiff, Phil, Vador, and I had such fun.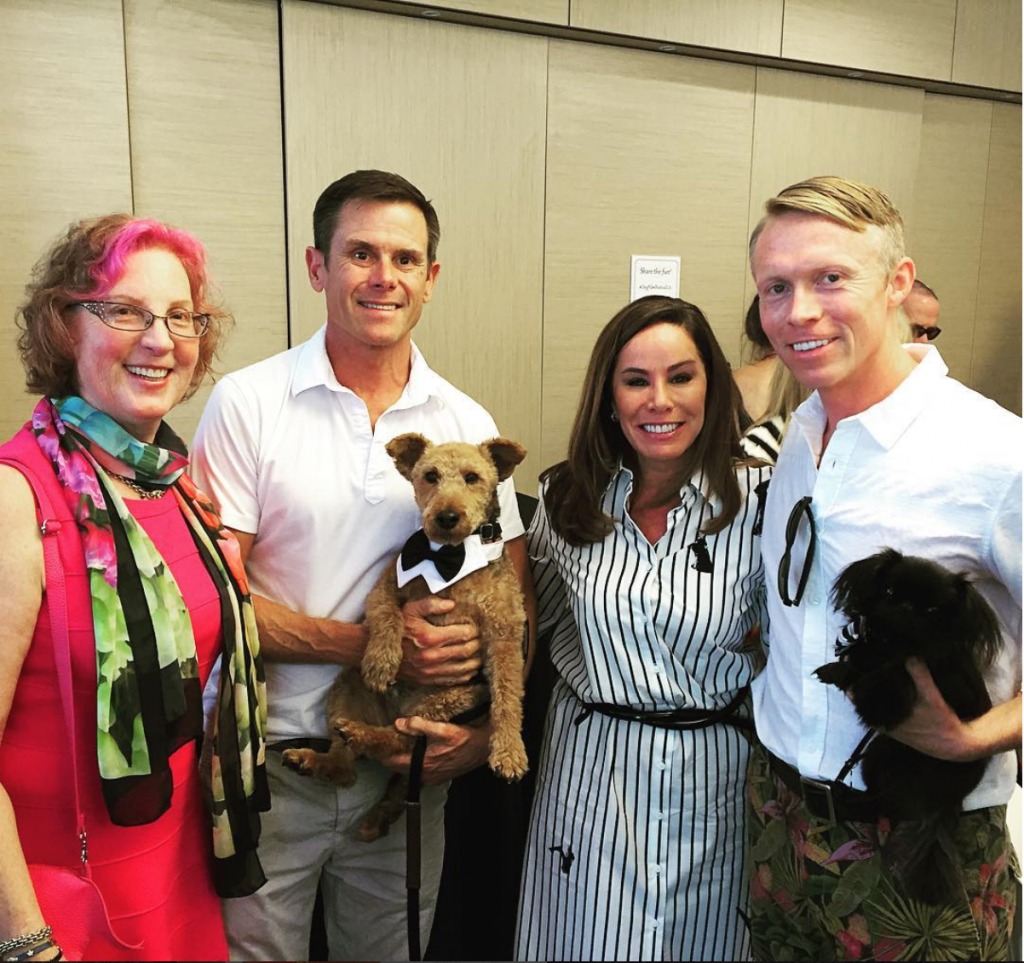 Tracie Hotchner, Phil Hammond (and Cardiff), Melissa Rivers, Dr. Patrick Mahaney (and Vador) attend the afternoon tea at the Dog Film Festival 2016
Well, this year's festival is coming up soon. Here's an announcement from Tracie Hotchner, Dog Film Festival founder and my cohost on Radio Pet Lady's Holistic Vets, about this year's event.
Have you been wondering when the 2nd Annual NY Dog Film Festival would be coming back to Los Angeles? Please hold the date this coming Saturday August 5th for the two shows at 5 PM and 7 PM.
I'll be bringing the Festival back, better than ever, with two completely different 70-minute programs of dog-centric films, with "themed" programs. One is called "Outdoor Adventure with Dogs" and the other is "Who Rescued Whom?"
Here's a YouTube trailer to give you a taste.
[youtube]https://www.youtube.com/watch?v=SGy66liWKWw[/youtube]
Last year's theater - where they kindly allowed dogs - is no longer operating, so this year we'll be at the Writer's Guild Theater (135 South Doheny Drive, Beverly Hills, CA 90201).
Sadly the Writer's Guild Theater cannot welcome our pooches. However, I'll be there to welcome you, as will our beneficiary Michelson Found Animals, a wonderful Los Angeles non-profit foundation doing so much good for animals in Los Angeles and around the country.
I really hope you can make it to see both programs.
Just as important, I'd really appreciate it if you could take a moment to share this with your other dog-loving friends.  We really need to fill this theater to make it possible for me to come back next year- so please help get the word out!
Click here to buy your tickets (only $15 per ticket)
I look forward to seeing you very soon!
Fondly,
Tracie Hotchner
I too hope that you can make it to take in all the intriguing, inspiring, and fun films with our canine companions as the central theme.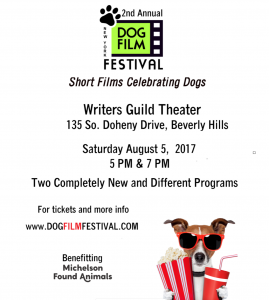 Please leave your constructive perspective in the below Comments section and communicate with me and follow my adventures in veterinary medicine and life via Instagram (@PatrickMahaney), Twitter (@PatrickMahaney), and Facebook (Patrick Mahaney: Veterinarian Acupuncture Pain Management for Your Pets).
Copyright of this article (2017) is owned by Dr. Patrick Mahaney, Veterinarian, Certified Veterinary Acupuncturist, and Certified Veterinary Journalist. Republishing any portion of this article must first be authorized by Dr. Patrick Mahaney. Requests for republishing must be approved by Dr. Patrick Mahaney and received in written format.