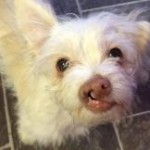 This article originally appeared on Dr. Mahaney's The Daily Vet column on PetMD as

Cleft Palate in Dogs Awareness

.
The Internet's cuteness meter was recently taken by storm with the story of an adorable dog named Josh, who has a birth defect that limits his quality of life and the ability to properly eat and drink. Josh's condition is called a

cleft palate

and can be a life-limiting factor for a puppy's proper development.
According to the

JOSH Facebook page

: "The breeder took Josh into the shelter to be put to sleep at 48 hours because of a cleft palate. Rescued by LNPB and Hand raised by Me … Tina Marie Lythgoe."
Since then, Josh has overcome adversity and matured into an adolescent pooch having a unique lifestyle. In the petition to have Josh appear on the cover of

Modern Dog

magazine, we learn some interesting facts about this cute pup.
Age: 5 months
Nicknames:
wolfie! bad boy! wild child!
Likes: cats,birds
Dislikes: He likes everything!
Favorite Foods: His puppy food
Favorite Pastimes: Playing at our grooming shop
You can cast your vote for Josh through July 2nd by clicking this link:

Meet: Josh
What I love seeing is the outpouring of photos and kind words on JOSH's Facebook page from other owners who have dogs that are affected by

cleft palate

, including Giget, a Chihuahua, and Treble, who also looks like a Chihuahua (or mix). There are also well wishes from pet lovers worldwide who are interested in seeing Josh continue to thrive.
Additionally, Josh also has some unusual furry friends in his household. His Facebook page shares photos of a visiting opossum, with the caption, "Opogogio my brother ... He lost his mom when he was a baby ... He snuggles like a cat and he plays with toys like a dog ❤️JOSH"
What I find very interesting about Josh is that he's has been able to thrive to the age of five months despite his medical condition. Having a cleft palate leaves an affected puppy, kitten, or other species especially prone to a variety of health concerns, including:
Nasal discharge

Cough

Difficulty nursing

Weight loss — resulting from inability to consume enough calories

Failure to thrive — due to insufficient hydration and calorie consumption or susceptibility to health problems

Aspiration pneumonia — inflammation and malfunction of the lungs caused by inhalation of liquid and food into the respiratory tract (trachea) instead of going down the esophagus

Breathing problems — associated with aspiration and pneumonia

Inappetence (anorexia) — decreased appetite, which can be related to diseases occurring as a result of the cleft palate, like pneumonia or others

Other
The exact reason why a puppy or kitten is born with a cleft palate is typically unknown, but the condition has been correlated with exposure of the embryo to chemicals capable of causing harmful developmental changes (teratogens) including:
Griseofulvicin

(Fulvicin) — An anti-fungal medication that is used to treat Dermatophytosis (ringworm)

Vitamins A and D — Vitamin D supplementation during pregnancy. Safety considerations in the design and interpretation of clinical trials indicates that "some animal studies have suggested the potential for dose-dependent fetal toxicities (for example, growth impairment, skeletal malformations and cardiovascular anomalies) associated with excess Vitamin D supplementation. While The American Journal of Clinical Nutrition reports "craniofacial … malformations" (those affecting the head and face) occurring in animals exposed to high Vitamin A intake during embryonic development
There are some breeds in which cleft palate is more common, including "

beagles

,

Cocker Spaniels

,

dachshunds

,

German shepherds

,

Labrador retrievers

, schnauzers,

Shetland sheepdogs

, and brachycephalic (short-nosed) breeds." Although the

West Highland White Terrier

(Westie) isn't listed here, Josh is a Westie mix and could always have one of these other breeds or a completely different breed or mixed breed in his genetic makeup.
Josh's cleft palate may be able to be repaired via surgery. The typical recommendation is to wait at until at least three to four months of age, and multiple surgeries may be needed. Performing surgery to fix the cleft palate is neither simple or inexpensive and often requires the skills of a board certified veterinary surgeon.
I hope that Josh continues to thrive in life despite his conformational abnormality. Additionally, I'm voting for him to appear on the cover of Modern Dog magazine to help educate the world about cleft palates and to serve as an inspiration to others who have pets facing similar issues.
Thank you for reading this article. Your questions and comments are completely welcome (I'll respond).
Copyright of this article (2014) is owned by Dr Patrick Mahaney, Veterinarian and Certified Veterinary Acupuncturist. Republishing any portion of this article must first be authorized by Dr Patrick Mahaney. Requests for republishing must be approved by Dr Patrick Mahaney and received in written format