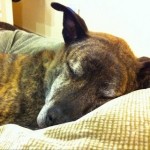 Has your dog endured the often horrible discomfort associated with neck pain?  It can be caused by a variety of conditions and often requires significant medical intervention and complementary treatments to manage. Learn my perspective on why a dog is suffering neck pain via the i Love Dogs (iLD) Ask A Vet page  in the article: How Do I Help My Dog With Neck Tremors?
Recently my 8-year-old dog started having tremors around her neck. The muscles in her neck stiffen, and she keeps her head lowered. The tremors last for about 20 minutes, and occur twice daily, before feedings.  
She eats and drinks fine, has no vomitingor diarrhea and her blood work is normal. Her shots and heartworm are up to date. She is currently taking a muscle relaxer three times daily.
Thank you for any insight.
– Kim
Hi Kim,
Thank you for your question.
It sounds as though your dog
 is experiencing some form of neurologic issue that should definitely be thoroughly evaluated by your veterinarian.
There are a variety of common conditions that can contribute to cervical (neck) pain, including:
Intervertebral Disc Disease (IVDD): A decrease in the shock-absorbing capacity of the intervertebral disc, which puts more stress on other neck structures that support the vertebrae (backbones).
Arthritis: Joint inflammation, which can occur as a result of overuse, age-related changes, trauma or even infection. Small joints – called facets – that connect each vertebra on the right and left sides can become inflamed.
Degenerative Joint Disease (DJD): The gradual progression of arthritis to a point where the interior joint surfaces are rough instead of smooth, which reduces overall joint comfort and range of motion.
Spinal Stenosis: The narrowing of the spinal canal, which pinches the spinal cord and nerves.
Wobbler syndrome: Also known as cervical vertebral instability, wobbler syndrome is common in large- and giant-breed dogs. When the vertebra in the neck are unstable, then the spinal cord, intervertebral discs and facets become compromised.
Cancer: Tumors can grow in the spinal canal, the spinal cord, the vertebra or other structures associated with the neck and spinal column.
If it has not already been done, it's in your dog's
 best interest to have X-rays taken. As the neck is not the easiest of body parts to take images of without the patient being perfectly still, it is most appropriate to use sedation or anesthesia. As most geriatric (yes, your 8-year-old dog is considered geriatric) dogs have some degree of periodontal disease, you should ask your veterinarian about having a dental cleaning performed during the same visit as the X-rays so your dog does not have to be sedated more than once. Depending on what is found on the X-rays, you may need to consider a consultation with a veterinary neurologist.
Aside from giving muscle relaxers, anti-inflammatory medication (steroidal or non-steroidal) can help to reduce inflammation and promote comfort. Additionally, medications that have more of a direct pain-numbing effect, such as opiates (like tramadol) or GABA analogs (like gabapentin) can also provide relief from discomfort and have a mildly to profoundly sedating effect (so your pet can rest).
To reduce your dog's reliance on such medications, you can also consider the use of nutraceuticals, massage, physical rehabilitation, acupuncture, acupressure and other treatments. If you are going to pursue a joint support product, I would consider the added immune-system enhancement of i Love Dogs Glucosamine & Chondroitin with Green Tea and Reishi. Reishi mushroom helps to promote better immune system function and the decaffeinated green tea packs a potent antioxidant punch.
Good luck,
– Patrick Mahaney, VMD, CVA
Thank you for reading this article.  Your questions and comments are completely welcome (I'll respond).
Please feel free to communicate with me through Twitter (@PatrickMahaney) and follow my adventures in veterinary medicine by liking Patrick Mahaney: Veterinarian Acupuncture Pain Management for Your Pets on Facebook.
Copyright of this article (2013) is owned by Dr Patrick Mahaney, Veterinarian and Certified Veterinary Acupuncturist. Republishing any portion of this article must first be authorized by Dr Patrick Mahaney. Requests for republishing must be approved by Dr Patrick Mahaney and received in written format.