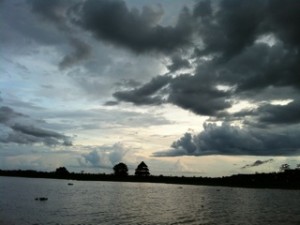 Our last day at our Amazon Cares summer camp-esque quarters started off with the continuation of the previous night's thunderstorms. After all, we are in the rainforest, right? Out task for the day was to patrol the adjacent neighborhoods providing education and non-surgical wellness care to the local dogs and cats. The heavy rain kept us from partaking on this venture, so we focused on the dogs within the Amazon Cares shelter.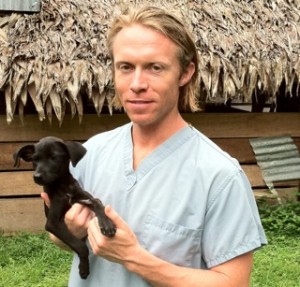 Adoptable healthy dogs and dealing with chronic illness (making them less likely to be adopted, therefore permanent shelter residents), live in this refuge from the tough street life they would otherwise face in Iquitos and surrounding communities (see
When Spaying a Pregnant Dog in a Third World Country What Happens to the Puppies?
and
Capturing Treating and Releasing the Street Dogs of Iquitos
). This little black dog, Patrick, was named after me. I call him Patricio and look forward to seeing photos of him grow and play with his other canine buddies. Dr. V (Jessica Vogelsang of
Pawcurious.com
) and I worked with Amazon Cares veterinarian, Luis Vasilly, to evaluate some of the these dogs and lend a fresh perspective on their treatments. Considering the harsh climatic circumstances, less than ideal nutrition, and exposure to illness and stressors before coming to the Amazon Cares rescue, these animals have made considerable improvements in their overall health through western medical treatments.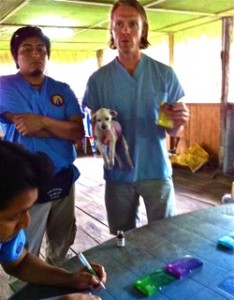 I introduced dietary supplements from
i Love Dogs
into their treatment protocols, so an appropriate recommendation was established for each dog. Either single or combination therapy of i Love Dogs Multivitamin, Reishi with Green Tea, Glucosamine/Chondroitin, or Green Tea will provide generalized or specific nutritional support to benefit a variety of canine illness. One lucky dog, named Martita (after the fabulous i Love Dogs general manager, Martha Smith) looks healthier with each passing day in her new environment under the care of Dr. Vassily. We are now going to start Martita (seen in above photo) on i Love Dogs Reishi with Green tea to boost her immune health to aid in her fight against sarcoptic mange.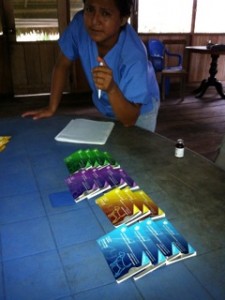 We had a big night planned, as we were spending the evening in Iquitos as compared to our jungle home down river. I am slated to give a lecture on holistic and integrative veterinary medicine at the
Alliance Francaise Iquitos
, which as arranged by one of our fearless Amazon Cares leaders, Bruno Antoine.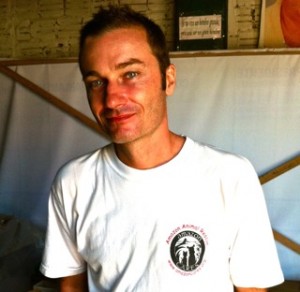 Also speaking at the event was a local biologist,
Elsa Rengifo Salgado
, who runs a practice in Iquitos providing phytotherapy to human patients. Collectively, we will educate anyone interested in means of treating illness in animals and people besides the sole use of conventional medication.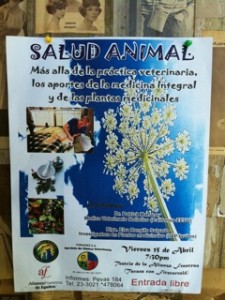 Thank you for reading my article. To receive my next update of my trip to Peru via email, please press the "Don't Miss a Blog Post" button on the right upper corner of this page or follow
this link
. Make sure to follow my Amazon Cares adventures by friending
Patrick Mahaney: Veterinarian Acupuncture Pain Management for Your Pets
on Facebook and
@PatrickMahaney
on Twitter. Copyright of this article (2011) is owned by Dr. Patrick Mahaney, Veterinarian and Certified Veterinary Acupuncturist. Republishing any portion of this article must first be authorized by Dr. Patrick Mahaney. Requests for republishing must be approved by Dr. Patrick Mahaney and received in written format.