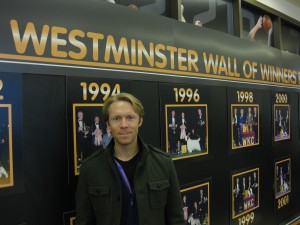 I've successfully trekked from sunny southern California to freezing New York City for 135th Annual Westminster Kennel Club All Breed Dog Show.  I had such a great time last year, as a Westminster virgin, at the grand dame of the dog show circuit.
 
At Westminster 2010 I saw Sadie (AKA Champion Roundtown Mercedes of Maryscot) win Best in Group (terrier) and Best in Show (see Sadie the Scottish Terrier Wins Westminster 2010 Best in Show).  The crowd vociferously expressed their fondness of the compact, spunky Scottish terrier ("Scottie") who fulfilled many predictions with her win.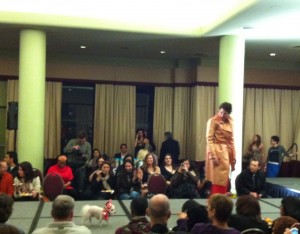 To get fully into the dog show spirit, I attended the Pre-Westminster Fashion Show at New York's Hotel Pennsylvania.  The event benefited Sean Casey Animal Rescue and displayed the latest in canine haute couture.
I met many vendors displaying pet products that I would recommend for Cardiff or my veterinary patients, including:
BooBooLoon Protective Petwear- makers of a very useful inflatable body protecting neck collar. It's a kinder, more comfortable version of the plastic Elizabethan collar (AKA "lampshade") notoriously dreaded by pets forced to wear it.
Dog Gone Smart Pet Products- manufacturers of dog beds, jackets, collars, and leashes that stay clean thanks to Nano technology.
Custom Cable Pet- creators of the Softee muzzle that has protected me many times from the bite of a mouthy dog while permitting the dog to breathe normally.
Nupro All Natural Supplements- producers of a variety of palatable supplements for dogs, cats, and ferrets.
Dick Van Patten's Natural Balance Pet Foods, Inc- providers of healthy, commercially available pet foods (who can forget the days of watching Eight is Enough?).
Dog Info USA- designers of the helpful and innovative My Dog record keeping app for iPhone and iPad.

I also met (but did not get a photo with) the burly, tattooed stars of Rescue Ink, who were there to meet, greet, and support a good cause.
 
I am now preparing for an intense two days of watching the world's premiere canines compete at Westminster 2011 in Madison Square Garden.  My veterinary attuned mind is going into overdrive with all the possibilities for upcoming pet care blogs.
As Westminster is a public show, the benching area will house each breed of dog during their competition time and gives me unlimited access to the dogs and their breeder/handler/owners. I will be focusing on collecting new information from on breed related illness affecting these pure bred dogs (see Westminster Best in Show breed specific illnesses).
 
Make sure to sign up for email delivery of my blog (follow this link) to receive my upcoming Westminster 2011 Best in Show announcement and event wrap up.
 
For real time reports, follow me on Twitter (@PatrickMahaney) and like me on Facebook (Patrick Mahaney, Veterinarian: Acupuncture Pain Management for Your Pets) .
 
Related Articles
Dr. Mahaney's Top 5 Westminster 2010 Dog Show Faves
 
Dr Mahaney's Top 3 Westminster 2010 Dog Show Faults
 
Bizarre Illness Nearly Kills 2009 Westminster Kennel Club Best in Show Winner
Copyright of this article (2011) is owned by Dr. Patrick Mahaney, Veterinarian and Certified Veterinary Acupuncturist. Republishing any portion of this article must first be authorized by Dr. Patrick Mahaney. Requests for republishing must be approved by Dr. Patrick Mahaney and received in written format.