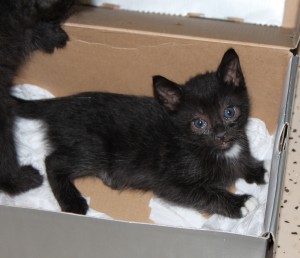 As a great end of the week and start of your weekend, I thought I would share the pictures and information as to how you can provide a home for (or spread the news of ) kittens in need. Here is the low down on these adorable fluff balls of their foster mom.
These beautiful 8 week old kitties are from a mobile park in Carson, CA, that we are diligently working on spaying and neutering their feral cats, who have been abandoned but well cared for by the residents of the park. The kittens are two (one boy one girl) beautiful, long hair black kitties with a beautiful silver mackerel pattern and likely green eyes like their mom. The other kitty is a boy tuxedo who loves to ham it and and is a romeo. They are all very sweet and purr lots! They have been dewormed and will have their first vaccinations before they leave the nest. They will make wonderful companions together or alone. Their mom is FELV/FIV neg and they will be tested shortly.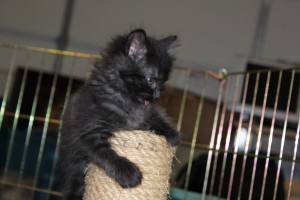 Please feel free to call contact Rachel via email
rachelschochet@yahoo.com
or call 310-558-6110 if you are interested. Thank you, Dr PM Please feel free to leave your comments or communicate with me through email (
patrick@patrickmahaney.com
) or Twitter (
@PatrickMahaney
). Thank you for reading my article. To receive my next veterinary posting via email, please press the "Don't Miss a Blog Post" button on the right upper corner of this page or follow
this link
. Make sure to follow my adventures in veterinary medicine by friending
Patrick Mahaney: Veterinarian Acupuncture Pain Management for Your Pets
on Facebook. Copyright of this article (2011) is owned by
Dr. Patrick Mahaney
, Veterinarian and Certified Veterinary Acupuncturist. Republishing any portion of this article must first be authorized by Dr. Patrick Mahaney. Requests for republishing must be approved by Dr. Patrick Mahaney and received in written format.