This article originally appeared on
Dr. Mahaney's Pet-Lebrity News
column on
Pet360.com
as The Puppy Bowl or The Kitten Bowl: Which One Did You Watch?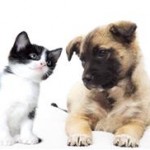 Did you watch Super Bowl 50? If so, were you cheering for the Denver Broncos or the Carolina Panthers? If the big game isn't quite your thing, there was plenty to offer from an entertainment perspective, including Lady Gaga singing the national anthem and the half time show with Bruno Mars, Coldplay and Beyonce. Personally, the musical spectacle is more appealing to my tastes as are the Animal Planet's Puppy Bowl XII and Hallmark Channel's Kitten Bowl III.
Both bowls feature compelling feats of athletic prowess by the select teams of canine and feline athletes. While the kittens all appear physically similar but for their coloration, the puppies greatly vary in their breed (Old English Sheepdog to Chihuahua) or mixed breed status and vary in size. Both bowls also promote awareness of pet adoption, as all puppies and kittens featured in the games and in the press for the event are available to go to their forever homes.
This year, through partnership between Animal Planet and the Pro Football Hall of Fame, viewers met the inaugural Puppy Bowl Hall of Fame honorees (legacy Puppy Bowl participants) and learned more about the adoption of adult and senior (i.e. veteran) dogs and cats in addition to puppies and kittens.
Forty-nine puppies from 44 shelters around the U.S. and Puerto Rico made up year's Pedigree canine lineup and competed for the title of MVP (Most Valuable Puppy). Fans of the bowl were able to follow #TeamFluff and #TeamRuff on social media, while chicken cheerleaders kept the puppies' spirits high during their exertive bouts.
The first and second halves of the Puppy Bowl were sandwiched between the ever-amusing Kitty Halftime Show. The adoptable felines (available through the Brooklyn Bridge Animal Welfare Coalition) climbed, leaped and crawled across the landmarks of San Francisco, including the Golden Gate Bridge, Fisherman's Wharf, and "Al-Cat-Raz" (a version of Alcatraz harboring the most notorious cat burglars).
Follow the further Puppy Bowl XII discussion on Twitter by following @MeepTheBird, who live tweeted the event.
Not to be outdone by the puppies, the felines of Hallmark Channel's Kitten Bowl III also put on a great show. Beth Stern, the national spokesperson for North Shore Animal League America (and Howard Stern's wife), returned as host, while John Sterling (the official voice of the New York Yankees and Emmy winner) and Mary Carillo (one of my favorite commentators from the world of tennis) kept us abreast to the furry action with their play-by-play perspective.
I knew I was a fan of Stern's when I read an article in which Stern responded to critics who feel she's using her husband's name to promote her causes. Ultimately, the animals in need benefit from Beth Stern's endeavors so I don't see the issue with her name recognition.
Stern doesn't just talk the talk about pet adoption, as her passion is to help save animals lives. She has said, "our family is about rescuing. I've gotten calls at 4 am to go rescue a kitty and Howard was my driver to go get it […] The fostering experience has made us better people. Our pets define us as a family." The Sterns have four cats.
Boomer Esiason, a four-time Pro Bowl quarterback and Feline Football League Commissioner, said "not only are these cats some of the best players in the Feline Football League, but also they are looking for their forever homes … These champions will make loving and playful additions to any family looking to adopt an animal in need."
Kitten Bowl III's featured felines are available for adoption through the North Shore Animal League America. Keep up with the ongoing Kitten Bowl III action via social media through follow Twitter (@HallmarkChannel,@KittenBowlTV, and #kittenbowl) and Facebook (www.facebook.com/HallmarkChannel andwww.facebook.com/KittenBowl).
Potential owners can learn more about the canines and felines up for adoption through Animal Planet's pet adoption resources page.
Did you watch the Puppy or Kitten Bowl? Which one better suits your football-viewing fancy? Feel free to share your perspective in the comments section.
Image: Happy Monkey via Shutterstock
Thank you for reading this article. Your questions and comments are completely welcome. Please feel free to communicate with me through Twitter (@PatrickMahaney) and follow my adventures in veterinary medicine by liking Patrick Mahaney: Veterinarian Acupuncture Pain Management for Your Pets on Facebook.
Copyright of this article (2016) is owned by Dr Patrick Mahaney, Veterinarian and Certified Veterinary Acupuncturist. Republishing any portion of this article must first be authorized by Dr Patrick Mahaney. Requests for republishing must be approved by Dr Patrick Mahaney and received in written format.